return to itm online
THE AYURVEDIC MEDICINE INDUSTRY IN INDIA
Ayurvedic medicines are produced by several thousand companies in India, but most of them are quite small, including numerous neighborhood pharmacies that compound ingredients to make their own remedies. It is estimated that the total value of products from the entire Ayurvedic production in India is on the order of one billion dollars (U.S.). The industry has been dominated by less than a dozen major companies for decades, joined recently by a few others that have followed their lead, so that there are today 30 companies doing a million dollars or more per year in business to meet the growing demand for Ayurvedic medicine. The products of these companies are included within the broad category of "fast moving consumer goods" (FMCG; which mainly involves foods, beverages, toiletries, cigarettes, etc.). Most of the larger Ayurvedic medicine suppliers provide materials other than Ayurvedic internal medicines, particularly in the areas of foods and toiletries (soap, toothpaste, shampoo, etc.), where there may be some overlap with Ayurveda, such as having traditional herbal ingredients in the composition of toiletries.
The key suppliers in Ayurveda are Dabur, Baidyanath, and Zandu, which together have about 85% of India's domestic market. These and a handful of other companies are mentioned repeatedly by various writers about the Ayurvedic business in India; a brief description is provided for them, arranged here from oldest to newest:
| | |
| --- | --- |
| | Dabur India Ltd. is India's largest Ayurvedic medicine supplier and the fourth largest producer of FMCG. It was established in 1884, and had grown to a business level in 2003 of about 650 million dollars per year, though only a fraction of that is involved with Ayurvedic medicine. Last year, about 15% of sales volume was pharmaceuticals, the remaining 85% were mostly non-medicine items such as foods and cosmetics. Dabur's Ayurvedic Specialities Division has over 260 medicines for treating a range of ailments and body conditions-from common cold to chronic paralysis. These materials constitute only 7% of Dabur's total revenue (thus, less than 50 million dollars). Dabur Chyawanprash (herbal honey) has a market share of 70% and chewable Hajmola Digestive Tablets has an 88% share. Other major products are Dabur Amla Hair Oil, Vatika (Shampoo), and Lal Dant Manjan (Tooth Powder). |
| | Sri Baidyanath Ayurvedic Bhawan Ltd. (Baidyanath for short) was founded in 1917 in Calcutta, and specializes in Ayurvedic medicines, though it has recently expanded into the FMCG sector with cosmetic and hair care products; one of its international products is Shikakai (soap pod) Shampoo. Baidyanath has a sales volume of about 350 million dollars, but most of the product sales are in the cosmetic range. The company reports having over 700 Ayurvedic products, made at 10 manufacturing centers, with 1,600 employees. Included items are herbal teas, patent medicines, massage oils, and chyawanprash. |
| | Zandu Pharmaceutical Works was incorporated in Bombay in 1919, named after an 18th-century Ayurvedic. The company focuses primarily on Ayurvedic products (in 1930, pharmaceuticals were added, but the pharmaceutical division was separated off about 30 years later). However, today Zandu has a chemicals division and cosmetics division. Its total sales volume is about 45 million dollars. One of its current projects is to develop a dopamine drug from a plant extract, applying for new drug status in the U.S. |
| | The Himalaya Drug Company was established in 1934 in Bangalore. It currently has a business level of about 500 million dollars and has a U.S. distribution division (Himalaya USA). It is known in the U.S. for the product Liv-52, marketed as a liver protector and therapy for liver diseases like viral hepatitis; the product was first marketed in India in 1955. |
| | Charak Pharmaceuticals was founded in 1947, and currently has three distribution centers in India; it produces liquids, tablets, and veterinary supplies. It has gained a large advantage with its new product Evanova, a preparation containing 33 herbs and minerals and non-hormonal active ingredients used as a menopause treatment alternative to HRT. Soya is one of the main ingredients in this product. The product also contains Ayurvedic herbs that act like selective estrogen receptor modulators as well as asparagus root (shatavari), which reduces the frequency and intensity of hot flashes. |
| | Vicco Laboratories was established in 1958. It mainly produces topical therapies based on Ayurveda and is best known internationally for its toothpaste product, Vajradanti, which has been marketed in the U.S. for more than 25 years. |
| | The Emami Group, founded in 1974, provides a diverse range of products, doing 110 million dollars of business annually, though only a portion is involved with Ayurvedic products, through its Himani line; the company is mainly involved with toiletries and cosmetics, but also provides Chyawanprash and other health products. |
| | Aimil Pharmaceuticals Ltd., incorporated in 1984 and engaged in manufacturing and sale of both generic and proprietary Ayurvedic medicines, with a business level of about 20 million dollars annually. Its wide range of Ayurvedic herbal formulations, covering most therapeutic segments, was honored by the Indian government's National Award for Quality Herbal Preparations and National Award for R & D in the year 2002. It is known for its proprietary formulas for hepatitis, diabetes, menstrual disorders, digestive disorders, and urinary diseases. |
Several small companies that have grown rapidly in recent years envision themselves as primary players in the Ayurvedic market. As an example, Viswakeerthy Ayurvedic Pharmacy promotes itself as one of the largest suppliers of Ayurvedic medicines in India. It presents the following on its website:
Viswakeerthy Ayurvedic Pharmacy, was founded by Dr. K. Mohammadkutty a great friend of Nature and Ayurveda. Started in 1977, as a fledgling pharmacy, Viswakeerthy today is one of the largest manufacturers of Ayurvedic Medicines with a formidable presence all over Kerala. The dynamic leadership of Dr. K. M. Kutty, complemented by the energetic drive of his team of young enthusiastic professionals has taken Viswakeerthy Ayurvedic Pharmacy to new heights. The philosophy behind the inception was to "Serve Humanity Through Ayurveda-The Authentic Way" by propagating and practicing genuine Ayurveda and producing quality Ayurvedic medicines. Today, this philosophy has taken Viswakeerthy to new heights of Ayurvedic excellence. Realizing the importance of standardization of medicines and the modernization of production, Viswakeerthy took the significant step of updating the technology of the existing pharmacy and establishing a sophisticated private limited company, Viswakeerthy Herbals Pvt. Ltd. at Kalpakanchery, Malappuram District of Kerala.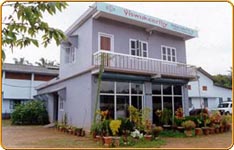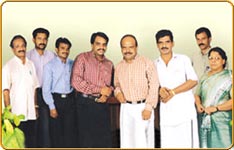 The market for Ayurvedic internal medicines is dominated by Chyawanprash, an herbal honey comprised of about 3 dozen ingredients, with amla (emblic myrobalans) as the key ingredient. The leader in this field is Dabur, which had a 69% market share at the end of 2002; followed by Baidyanath, with nearly 11%, and Zandu and Himani (Emami Group) with about 7.5% each. A variety of individual herbs, traditional formulations, and proprietary medicines make up the rest of the health products section involving internal remedies, while the remainder of the market is taken up by toothpastes and powders, skin creams, massage oils, shampoos, and other topical preparations. Aside from Chyawanprash, the following are among the major traditional remedies:
Formula Designation
Ingredients
Main Uses
Triphala
Three Myrobalans
Terminalia chebula, Terminalia Belerica, Emblica officinalis
Rejuvenative tonic, harmonizer, treatment for intestinal disorders
Trikatu
Three Pungents
Piper longum, Zingiber officinale, Piper nigrum
Spicy stimulant to digestion
Trikulu
Three Fragrants
Ellettaria cardaomomum, Cinnamomum arundinacia, Eugenia caryophylla
Aromatic base for numerous formulations
Gokshuradi Guggulu
Triphala plus Trikatu plus Tribulus terrestris, Commiphora mukul, Cyperus rotundus
Treatment for urinary tract disorders
Sitopaladi churna
Bombusa arundinacia, Cinnamomum zeylanicum, Elettaria cardamomum Piper longum
Alleviates cough and associated respiratory disorders
Two of the largest companies involved with providing traditional medicine products, such as the above, are Himalaya Drug Company and Universal Medicaments (in Nagpur). Universal Medicaments has a joint venture for research and manufacturing of herbal products with Cipla Ltd. and Lupin Ltd, two leading pharmaceutical companies of India. Universal is engaged in manufacturing and exports of both pharmaceutical formulations and research-based herbal medicines.
Exports of Ayurvedic medicines have reached a value of 100 million dollars a year (about 10% the value of the entire Ayurvedic industry in India). About 60% of this is crude herbs (to be manufactured into products outside India), about 30% is finished product shipped abroad for direct sales to consumers, and the remaining 10% is partially prepared products to be finished in the foreign countries (see Appendix 1 for examples of Ayurvedic distribution from India with products available worldwide).
STATUS OF AYURVEDA IN INDIA
The Indian government and non-government organizations have been collecting statistics on the Ayurvedic system in India and these data about the manpower and institutional aspects of Ayurveda have emerged:
Number of registered medical practitioners: 366,812
Number of dispensaries: 22,100
Number of hospitals: 2,189
Number of hospital beds: 33,145
Number of teaching institutions (undergraduate): 187
Number of upgraded postgraduate departments: 51
Number of specialties in postgraduate medical training: 16
Number of pharmacies manufacturing Ayurvedic medicines: 8,400
In India, 60% of registered physicians are involved in non-allopathic systems of medicine. In addition to the nearly 400,000 Ayurvedic practitioners, there are over 170,000 homeopathic physicians; India has about 500,000 medical doctors (similar to the number in the U.S., but serving nearly 4 times as many people). Reliance on Ayurvedic medicine is heavy in certain regions of India, such as Kerala in the Southwest. Many Ayurvedic practitioners in small villages are not registered. One of the famous clinics of India is described in Appendix 2 and a new clinic complex is serving visitors from abroad is mentioned in Appendix 3.
MODERN MARKET DEVELOPMENTS
The SAARC (South Asia Association for Regional Cooperation) was formed in 1985; its member countries are India, Pakistan, Nepal, Bangladesh, Bhutan, Maldives, and Sri Lanka. These countries all have been influenced by Ayurvedic medicine. Trade in Ayurvedic medicines within the SAARC is mostly limited to raw materials that grow in one region (e.g., high mountains, northern climate) and are then exported to other regions (e.g., lowland southern areas). Because of the large number of very small factories that try to service the local communities, with products labeled with the local language, there is little opportunity for suppliers in one SAARC country to send finished products to another SAARC or even abroad.
Entrepreneurs in these countries (mainly in India) seeking to break into the market for natural products have determined, rightly, that the demand for traditional style Ayurvedic medicines both inside and outside the region is limited, despite growth trends as high as 20% annually encountered in the late 1990s. They have aimed to bolster interest by carrying out scientific research into promising herbs and formulas that are based on Ayurveda but not necessarily reflecting traditional practices. Of necessity, such research eventually focuses on finding of active ingredients, and this has led to the development of isolates from plants that are sold as "nutriceuticals" (substances not registered as drugs, but used like nutritional and dietary supplements, sold over the counter in various formulations with specific health benefits portrayed for them). For these, there is a growing worldwide demand. The main suppliers of nutriceuticals are Japan, China, and the U.S., but India stands to become a significant contributor.
As an example of development of Ayurvedic nutriceuticals, Sabinsa Corporation, a U.S. company with affiliates in India that represents the Indian tradition, though it also takes on similar projects involving herbs from other sources. The company was founded by Dr. Muhammed Majeed. He was born in Kerala, India; after graduating in Pharmacy from Kerala University, Majeed emigrated to the U.S. in 1974, where he continued his graduate studies and then worked at pharmaceutical companies for 15 years. Then, in 1988, he founded Sabinsa Corporation. Soon after, in 1991, Majeed set up a research and development group at Bangalore, India called Sami Labs Ltd. That facility now has over 500 employees.
Sabinsa produces extracts and special powders such as the following (uses are typical applications sought by product manufacturers and may not reflect traditional Ayurvedic uses):
Product Name
Composition
Uses
Adhatoda Vasica- (Adhatoda vasica)
Standardized Extract
1.0% vasicine
2.0% total alkaloids
respiratory support,
cough-cold aid
Amla- (Emblica officinalis)
Standardized Extract
40% tannins
rejuvenating agent
Andrographis paniculata
Standardized Extract
10% andro-grapholides
liver support
Ashwagandha (Withania somnifera)
Standardized Extract
1.5% withanolides
1.0% alkaloids
adaptogen
Asparagus Racemosus
Standardized Extract
2.5% shatavarin ii
2.5% shatavarin iv
Adaptogen
Bacopin (Bacopa monniera)
Standardized Extract
20% bacosides a & b
memory support
Bioperine (Piper nigrum)
Standardized Extract
95% piperine
nutrient bioavailability enhancer
Boswellin (Boswellia serrata)
Standardized Extract
70% total organic acids
20% β-boswellic acid
anti-inflammatory,
arthritis support
Boswellin Forte (Boswellia serrata)
Standardized Extract
75% total organic acids
40% ß-boswellic acid
anti-inflammatory,
arthritis support
Calcium Sennosides (Cassia angustifolia)
Standardized Extract
20% total sennosides
laxative action
Centellin (Centella asiatica)
Standardized Extract
8% total triterpenes
skin health, general tonic
Coleus Forskohlii
Standardized Extract
1%, 10%, or 20%, or 95% forskolin
Traditional use:
circulation support; new uses: sports nutrition,
weight management
Curcumin C3 Complex® (Curcuma longa)
Standardized Extract
95% curcuminoids
antioxidant, anti-inflammatory
Fenusterols ® (Trigonella foenum graecum)
Standardized Extract
50% steroidal saponins
sports nutrition
Ginger Dry Extract (Zingiber officinale)
Standardized Extract
5% gingerols
digestive aid
Ginger Soft Extract (Zingiber officinale)
Standardized Extract
20% gingerols
digestive aid
Gugulipid® (Commiphora mukul)
Standardized Extract
2.5% or 7.5% guggulsterones
healthy cholesterol
Gymnema Sylvestre (Gymnema sylvestre)
Standardized Extract
25% or 75% gymnemic acids
healthy blood sugar
Hot Sip® (Combination of 4 herbs)
Powdered Extract
combination of: Adhatoda vasica, Alpinia galanga
Glycyrrhiza glabra, Piper longum
cough & cold aid
Inula Racemosa
Standardized Extract
2% alantolactone
circulation support, skin health
Licorice - (Glycyrrhiza glabra)
Standardized Extract
20% glycyrrhizinic acid
Expectorant
Momordicin® - (Momordica charantia)
Standardized Extract
7% bitter principles
0.5% charantin
blood sugar support
Mucuna Pruriens
10% & 15% l-dopa
tonic, energy
Neem Leaf Extract (Melia azadirachta)
Standardized Extract
3% bitter principles
Antiseptic
Phyllanthus Amarus (Phyllanthus amarus)
Standardized Extract
3% bitter principles
liver support
Picroliv® (Picrorhiza kurroa)
Standardized Extract
4% kutkin
8-10% bitter principle
liver support
Piper Longum
Standardized Extract
1.5% piperine
respiratory support, thermogenic
Rubia Cordifolia
Standardized Extract
0.1% total alkaloids
skin health
Silbinol™ (Pterocarpus marsupium)
Standardized Extract
5% pterostilbene
0.01% (-) epicatechin min.
blood sugar support
Terminalia Arjuna
Standardized Extract
0.5% arjunolic acid
circulation support
Terminalia Belerica
Standardized Extract
40% tannins
rejuvenating agent
Terminalia Chebula
Standardized Extract
40% tannins
rejuvenating agent
Tinofolin ® (Tinospora cordifolia)
Standardized Extract
2.5% bitter principles
urinary health
support
Trikatu (Ayurvedic Formula)
Powder
combination of Piper longum,
Piper nigrum, Zingiber officinale
respiratory support, thermogenic, digestive aid
Triphala (Ayurvedic Formula)
Standardized Extract
40% tannins; combination of Terminalia belerica, Terminalia chebula,
Emblica officinalis
digestive aid
Tulsi Extract (Ocimum sanctum)
Standardized Extract
2.0% ursolic acid
blood sugar
support, rejuvenating agent
Tylophora (Tylophora indica/asthmatica)
Standardized Extract
0.1% total alkaloids
respiratory support
As examples of how traditional Ayurvedic ingredients are converted to modern products, it has been found that myrrh yields guggulsterones and frankincense yields boswellic acids that are now in high demand. For both these herbs, the original research and product development originated in India as part of an ongoing effort to investigate and make more useful the tradition of Ayurvedic medicine. Much of the guggulsterone and boswellic acid currently used in manufacturing products today comes from Sabinsa.
Guggulsterones are reputed to lower blood lipids, including cholesterol, a problem recognized currently, but not an issue of traditional Ayurvedic medicine. The standardized nutriceutical available for most manufacturing of products is 2.5% guggulsterones; preparations of 7.5% and of 10% guggulsterones are produced, but the high sterone products are soft and more difficult to use in manufacturing. The Sabinsa product is trademarked Gugulipid. Boswellic acids are reputed to have potent anti-inflammatory activity, as demonstrated in laboratory experiments; its traditional use would indicate an anti-inflammatory action. The standardized boswellic acid preparations list their content as 50-70% boswellic acids, though it has been suggested that these are actually total organic acids from frankincense, with boswellic acids as the major component. The Sabinsa product is trademarked Boswellin.
This trend towards nutriceutical development has not been adopted by all. Some are still interested in promoting the ancient tradition and sell the well-known prescriptions or make up new proprietary formulas. An example of a company that sells complex Ayurvedic compounds is Surya Herbal in New Delhi. They are the manufacturers and exporters of a wide range of Ayurvedic generic, branded specialties and other OTC herbal healthcare products. The company provides 15 formulations, which match, for the most part, the categories of natural therapeutics in demand worldwide. The products include: Memory-Loss Capsules/Syrup; Mental Stress and Fatigue Relieving Capsules; General Weakness Tonic for Men & Women; Liver Disorder Curative Tablets/Syrup; Piles & Varicose Veins Tablets; Throat & Other Minor Infections Therapy Tablets/Syrup; Menstrual Regulatory Capsules/Syrup; Cough Relief Tablets/Syrup; and Constipation Regulatory Tablets/Syrup.
Another example is Universal Medicaments Pvt. Ltd., a part of Universal Pharmaceuticals Group. The company is best recognized for its formulations Karnim (Anti-diabetic supplement), Herbokam (Anti-stress formula), Chetak (Stimulant), Tonabilin (Iron supplement), Minitone, U-Gyanetone, and Unicough Syrup. All together, the company has about 15 main proprietary products. Key elements in both these companies is a gradual move away from traditional Ayurvedic products to the new formulations ("research-based") and new dosage forms (e.g., capsules and syrups to replace, as examples, teas and ghee preparations) that suit the current demands. The direction today is to deal with broad issues, such as lowering cholesterol and lipids, lowering blood sugar (in diabetes), and improving cardiovascular health overall. Products in high demand also include menopause formulas, sexual stimulants, treatments for liver disease, and detoxifying regimens.
The biggest supplier of Ayurvedic herb products for the U.S. and other Western countries is Maharishi Ayurveda Products International, Inc., currently located in Colorado. Despite its dominance in the field, which came about because of the popularity of Maharishi Mahesh Yogi in his teaching of transcendental meditation, the company still has only a limited market presence and small staff. The Maharishi had attracted a few medical doctors to his program, and they have been vocal proponents of the products, which is the reason for their continued use. There are about two dozen products in their catalog.
In America, Europe, and other countries, it has long been recognized that it is difficult to promote traditional medicine systems because of their complexity, so individual herbs become the focus of attention. The main herb of interest from India is ashwaganda. It is not promoted as much based on its role in Ayurveda, rather, it has been compared, with considerable hyperbole, to ginseng, which was for many years the biggest selling medicinal herb on the international market. So, it is called "Indian ginseng" by some (though to do so now in the U.S. is illegal) and promoted as an "adaptogen," as a sexual tonic, and as an immune enhancer, but usually without any reference to its characteristics as recognized by Ayurveda. It is included in formulations, but mostly with non-Ayurvedic ingredients. Previously, the best promoted herb from Ayurveda was Centella asiatica, one type of Brahmi. This herb became popular almost entirely on the basis of one product (which contained two other non-Ayurvedic herbs), that was heavily promoted. Confusion over the source led to substitution of a Chinese herb in most products recently. However, this Ayurvedic herb is still promoted as an energizer (in Ayurvedic medicine it is a sedative), and as a tonic for the brain (which is consistent with some Ayurvedic indications for it).
There are serious problems with traditional Ayurvedic medicine in the West. In a separate article (Status of Ayurveda in the U.S.), I have described significant barriers that exist to development of the field here, where Chinese medicine has done fairly well. Visitors to India bring back distressing stories about the status of Ayurvedic medicine education in India, which indicates that there are problems arising in the source country.
Other issues influence the potential spread of Ayurvedic medicines. With the popularization of herbal medicine in recent decades, along with the rapid growth in population, numerous species used in making traditional formulas are becoming endangered. A good example is Nardostachys (jatamansi), which is now permitted only in manufactured products and cannot be otherwise exported; it is mainly obtained in Nepal. According to one estimate, 120 economically useful plants in India are endangered, 35 of which are said to be important medicinals.
Quality control issues have come to the fore, with worries about contamination of plant products by heavy metals, pesticides, and other substances, yet few Ayurvedic factories are large enough and affluent enough to invest in the necessary testing procedures to demonstrate the quality of the finished materials. The ones mentioned above, Surya and Universal, do have the capabilities and produce certificates of analysis for their batches of product that reveal test data on cleanliness and purity of the product.
September 2003
Note: The author would like to thank Lokesh Gupta, in Noida, India, for providing background information relevant to the development of this article. Any inadvertent errors in representation of the industry activities or its member companies are the sole responsibility of the current author.
APPENDIX 1. Ayurvedic Distribution
The development of international trade in Ayurvedic medicine came about at the same time that the internet became a popular means of rapid communication. Most Ayurvedic suppliers provide at least minimal contacts, and some provide extensive contacts, via the internet.
Follow this link for a sampling of 150 sites related to Ayurvedic medicine suppliers and consultants on the internet (thanks to 123India.com).
APPENDIX 2. The Story Kottakkal Arya Vaidya Sala, an Ayurvedic Medical Center
Founded in 1902, by Vaidyaratnam P.S. Varier, the Kottakkal Arya Vaidya Sala is today the largest and most trusted institution of its kind in India. Kottakkal Arya Vaidya Sala is a charitable institution offering authentic Ayurvedic medicines and treatments to patients from all over India and abroad. The Arya Vaidya Sala also manages one Ayurvedic Hospital at Kottakkal in Kerala and another at Delhi, cultivates medicinal plants, manufactures medicines, conducts research programs, publishes books and seminar reports on Ayurveda and related subjects, and runs a Kathakali Academy. Sri Varier, scion of an illustrious family of Kottakkal in the Malabar region of Kerala, was a renowned Ayurvedic scholar and academician, an able practitioner, a successful entrepreneur, and a genuine philanthropist. Sri Varier studied Ayurveda under the classical Gurukula system. He also acquired proficiency in the practice of Allopathy. In 1933, in recognition of his valuable services to humanity, Sri P. S. Varier was conferred the distinguished title of "Vaidyaratna" by His Excellency the Viceroy and Governor General of India.


Left: Some of the 500 Ayurvedic formulas developed by Arya Vaidya Sala; Right: Home of S. Varier, the organization's founder.
Sri Varier, called the "savior of Ayurveda in the South" died in 1944. He had executed a will prior to his demise, which converted his proprietary concern into a charitable trust of public nature, to be run by a trust board consisting of seven members; as per the provisions of its founder's will, Arya Vaidya Sala functions as a charitable trust.

Dr. P. K. Warrier,
Managing Trustee & Chief Physician

The major share of the earnings from its activities is exclusively spent on medical aid-on both outpatient and inpatient basis-to deserving persons. Financial support is also provided for managing an affiliated Ayurveda college; conducting research; holding seminars and training programs; producing books and publications; cultivation of herbal gardens; and for running a classical dance academy. The remaining funds are pooled back for the development of the institution. No financial gain accrues to any individual or family. The Trust Board is headed by Dr. P. K. Warrier, a nephew of the founder. Dr. Warrier serves also as Chief Physician, ably assisted by other senior and experienced physicians. Dr. Warrier, under whose leadership Arya Vaidya Sala has grown into a large organization with 14 branch clinics, has been honored with several awards, including the prestigious Dhanvanthari Award for 2001.
APPENDIX 3. Ayurvedic Natural Health Center, Goa, India
Providing Ayruvedic health care services for tourists from around the world is one of the goals of the modern Ayurvedic medicine industry. Although herb products can be shipped everywhere, the services of Ayurveda-epitomized by the week-long Panch Karma regimen-are obtained by staying at a special clinic. The Ayurvedic Natural Health Care Center is a group of sites in Goa where people can visit for two weeks to experience a wide range of therapies. The Ayurvedic system is particularly focused on cleansing (detoxifying) approaches, and uses numerous methods for promoting elimination and relaxation, many of them involving application of medicated oils.
| | |
| --- | --- |
| | The Ayurvedic Natural Health Care Center was established just a few years ago by Dr. Gopalakrishnan Valiyaveettiv. He was born in the Kerala area where Ayurvedic medicine has a strong base. Dr. Valiyaveettiv belonged to a family specializing in Ayurveda, and he attained a vast understanding of Ayurveda from his parents. In 1990 he graduated from University, majoring in Zoology, and then went on to formally study Ayurvedic medicine. In 1996 he completed his Bachelor of Ayurvedic Medicine & Surgery from Vaidyaratnam P.S Varier's Ayurvedic College, in Kottakkal (see Appendix 1). |

Herbal Pharmacy


A collection of Ayurvedic remedies are available at the clinic to be prescribed according to the ancient system of treating the three doshas: vata, pitta, kapha. A specialty of the clinic is use of Rasayana, which are the rejuvenative tonics Specific dietary recommendations are given to accompany the herbal preparations in making a complete program of therapy.


Shirodhara


A continuous stream of medicated warm oil (or herbal decoctions, medicated milk, or buttermilk) is poured onto the forehead for 20 to 40 minutes. This procedure often induces a mental state similar to a trance, which creates profound relaxation of the mind and body. It is deeply relaxing and revitalizes the central nervous system. Shirodhara gives the best results when taken after an Abhyanga, a whole body massage with herbal oils.


Kati Basti


A special technique aimed at providing relief for back pain using warm medicated oils or herbal decoctions when bathing the lower back for 20 to 30 minutes.