Zuogui Wan and Zuogui Yin (the yin nourishing pill and liquid)
Shanyao is also used in spleen qi tonics, such as Shen Ling Baizhu San and Guzhen Tang, where it is a relatively minor constituent, taking second place to the more potent atractylodes. In the modern Chinese Materia Medica, dioscorea is listed with the qi tonic herbs because of its traditional use for alleviating diarrhea, despite the fact that it is much more frequently used in kidney-nourishing formulas, where it contributes to stabilizing the kidney and restraining "essence leakage."
Yang Yifan notes that (2):
Shanyao is neutral and sweet. Although its effect in tonifying the spleen qi is not so strong as that of atractylodes [baizhu], it can tonify either the qi or the yin, so it is especially suitable for treating deficiency of both qi and yin in the middle burner. It also has a slightly astringent property which is helpful for stopping diarrhea. Furthermore, this herb also enters the lung and kidney meridians, so it effective for tonifying and stabilizing the qi and yin of these organs. It can be used for patients suffering from a lack of appetite, fatigue, loose stools, and shortness of breath, thirst, and sweating.
The tuber, like that of the edible yams, is comprised mainly of nutrients stored for plant growth, so it is rich in starch and also contains protein. One of the main proteins, called dioscorin, is being investigated for potential health benefits, including antioxidant activity. A mucilage (starch-protein complex) from the tuber is also considered of potential value. The mucilage of this plant, like that of other plants, may contribute to its treatment of diarrhea, as this substance has binding and anti-irritant action. However, the main active components of dioscorea are steroidal compounds, diosgenin and its variants. These make up about 2% of the tubers. The pharmacology of diosgenin and the other steroidal compounds from dioscorea have not been investigated to a great extent (a small amount of investigation was done over 20 years ago); however, the effects may overlap those of many similar compounds found in herbal medicines, especially Chinese herbs (see: Platycodon and other Chinese herbs with triterpene glycosides). Diosgenin is used as a raw material for pharmaceutical production of steroidal hormones; however, the hormonal activity of the natural compounds is quite weak. Diosgenin, a spirostanol glycoside, is being investigated as a potential treatment for rheumatoid arthritis (3), though in amounts much larger than would be obtained from shanyao in traditional preparations.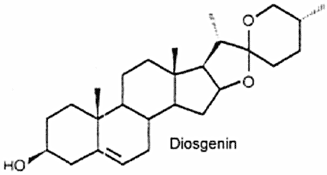 The other commonly used variety of Dioscorea is commonly called tokoro, the Chinese name is bixie (the characters for this name are unique for the plant). It is from the rhizome of Dioscorea hypoglauca or plants with similar tubers, such D. tokoro and D. septemloba. Its composition is similar to that of shanyao, but it is a more bitter taste, possibly due to higher level of the steroidal compounds. Yang Yifan also describes it:
Bixie is bitter and neutral and enters the liver, stomach, and bladder meridians. It does not have the function of clearing heat, but it is able to separate dampness from heat and separate the clean part of water from the turbid part and it is good at eliminating dampness. Bixie is particularly used for treating cloudy urine or a large amount of leukorrhea due to dampness accumulation in the lower burner. In clinical practice, this herb is often used for chronic nephritis.
The description of bixie may give some insights into the use of shanyao. Both herbs aid in the treatment of moisture disorders, and the idea of being able to "separate dampness from heat" and the "clean part from the turbid part" may help us understand their properties and functions. Damp and heat are two pathological influences that can combine together, producing a "damp-heat" syndrome. Dampness helps the heat to stagnate and to sink downward; damp-heat syndromes especially affect the lower abdomen (and sometimes the legs). Heat causes dampness, which is often associated with swelling and/or discharge, to produce symptoms of itching, burning, and redness; the discharge may become discolored rather than clear or white. So, examples of damp-heat syndromes include infections of the kidney, bladder, large intestine, and reproductive organs. Clarity (as in the "clean part") is a concept that is applied to fluid essences, including moisture, phlegm, and qi (there is a description of "clear yang" rising to the head, an essence that aids mental processes, and this refers to the yang aspect of qi). Contaminating substances combining with the fluid essence produces the condition of "turbidity." When severe, turbidity often involves blockage of the free flow of the essences. In the description above, the turbidity is made evident in the cloudy urine or the large amount of milky fluid (leukorrhea), and this is associated here with accumulation of damp in the lower burner; the accumulation is related to blockage of the free flow of moisture. Although not mentioned in the description here by Yang, bixie is also used in the treatment of wind-damp syndrome, especially for rheumatoid arthritis. The obstruction in the joints is partly due to stagnation and turbidity of fluids in the joint space.
One of the well-known formulations with tokoro is the Tokoro Combination (Bixie Fenqing Yin), which is comprised of equal parts tokoro, alpinia, acorus, and lindera (4). This formula is aimed at warming up the kidney (the three other herbs are all warming), clearing away turbidity, and removing dampness. The syndrome it treats is one of deficiency of the kidney with invasion of coldness, causing symptoms of frequent urination with discharge of mucus in the urine (this is the evidence of turbidity). Lindera (wuyao) is categorized as a qi regulating herb, but is a close relative of cinnamon, which has the effect of warming the kidney. Acorus (shichangpu) is often used for clearing the phlegm-mist type of turbidity that affects mental function, but is also used for turbidity elsewhere. Alpinia is a warming kidney tonic that also tonifies the spleen and disperses damp accumulation. A formulation similar to this one, but with shanyao in place of bixie, is called Suoquan Wan, and is used for treatment of frequent urination or urinary incontinence.
Although the two herbs, shanyao and bixie, are listed in differing parts of the Materia Medica and described differently (the former emphasizing tonic effects, the latter emphasizing "separating effects") it is likely that these two actually have overlapping effects. Both are suitable for treating kidney deficiency syndromes and both regulate fluid metabolism.
The other Chinese herbs relying on species of Dioscorea are used far less often. Two main examples are:
Huangyaozi: obtained from Dioscorea bulbifera, it is used to resolve phlegm, and is especially employed in treatments for phlegm-mass of the throat area, namely thyroid swelling (see: Treatments of thyroid diseases with Chinese herbal medicine) and esophageal cancer (5). It is considered an effective herb for hyperthyroidism and thyroid cancer, but must be used cautiously as there have been reports of liver damage due to use of this herb. Huangyaozi is also used to treat eczema and other skin diseases (abscesses, sores, etc.) and bronchitis.
Chuanshanlong: obtained from Dioscorea nipponica; it is used to vitalize blood and relax tendons, promote fluid metabolism, and disperse phlegm. It is mainly used in cases of arthralgia affecting the lower back and legs. It has relatively large amounts of diosgenin and related saponins and is used in high doses (15-30 grams). The anti-arthritis effects are probably the same as those mentioned previously for diosgenin..
These other two species have in common the treatment of phlegm accumulation and wind-damp syndromes (arthritis and skin inflammation) which represent manifestations of turbidity and moisture accumulation, conditions generally treated by Dioscorea species. It should be noted that Dioscorea hypoglauca is being investigated for anticancer activity (6), especially of the component protodioscin (which is also found in the Chinese herb tribulus). It may also be useful in resolving phlegm-masses, such as occurs with neurofibromatosis.
EXAMPLE OF APPLICATION: QIANJIN ZHIDAI WAN
Qianjin Zhidai Wan is a well-known product used in China to tonify and warm the kidney and spleen while clearing heat and restraining leakage. Its main applications are for regulating menstruation and for alleviating discharge: leukorrhea and excessive uterine bleeding. A version of this formula has been used extensively world-wide; it is a proprietary product (pictured, below) of the Tianjin Lerentang Pharmaceutical Factory; however, several other factories produce slightly different formulations under the same name. Qianjin means "a thousand gold pieces" suggesting the great value of the remedy. Zhidai means to stop the discharge; dai refers most specifically to a "thready" discharge and is the term often used for leukorrhea, but coagulated blood, as discharged during menstruation, will also produce the condition called dai. Since Qianjin Zhidai Wan comes in differing formulations, and since the package labels for imported Chinese products are often incomplete, the ingredients described below are for ITM's Pine Mountain version, for which the ingredients are correctly specified.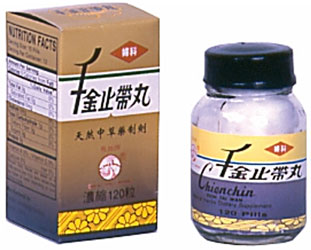 The formula has three basic therapeutic actions:
Tonifies restores depleted qi by tonifying the spleen and kidney. This is accomplished with dioscorea as spleen/kidney tonic, boosted by codonopsis and atractylodes for the spleen and dipsacus and fennel for warming the kidney. Together, these are said to warm the uterus and kidney and to circulate moisture. Saussurea is also included in the prescription for its warming and moisture dispersing qualities. These herbs together function somewhat like the formula Bixie Fenqing Yin.
Stabilizes the chongmai (the channel called the "sea of blood"). This is accomplished with sepia bone (cuttlefish) and ailanthus to astringe bleeding (also effective for other discharge) and tang-kuei to nourish the blood. The main pathologies of the chongmai involve the menstrual cycle and irregularities in uterine bleeding (amenorrhea or menorrhagia). Dioscorea also acts as an astringent.
Clear heat. This is accomplished with indigo (qingdai) and phellodendron. Indigo is a deep blue-purple dye and the main active component of isatis, while phellodendron has the bright yellow alkaloid components that contribute to its effects. Indigo clears heat from the blood, and thus can help alleviate bleeding due to heat agitating the blood; it also has potent antiseptic effects and disperses blood stasis. Phellodendron dries damp, clears deficiency heat, and also has antiseptic effects. Dioscorea functions to separate the heat from the damp.
The three therapeutic actions taken together help alleviate excessive vaginal discharge (whether as leukorrhea or bleeding). The tonification of the spleen and kidney help to keep the blood within the vessels, aid the circulation of blood in the uterus, and get rid of excess damp; the astringent herbs reduce both blood and fluid discharges; the herbs for clearing heat help prevent the blood from escaping the vessels and reduce infections. An Ayurvedic herb, saraca (see: Excessive uterine bleeding), is also helpful for this purpose.
Cuttlefish bone (the bone of a cephalopod similar to the squid) has properties that are much like those of another famous Chinese medicine, mantis egg-case (see the article: Sangpiaoxiao San). It is an astringent, a tonic for deficiency of kidneys, and sedative. While the mantis egg-case is mainly used for urinary discharge, sepia bone is mainly used for uterine discharge.
EXAMPLE OF APPLICATION: IRIDOID COMPLEX
Iridoid Complex is a modern formulation developed at ITM for the purpose of enhancing the action of other prescribed formulations, especially those that contain the combination of rehmannia, cornus, and dioscorea (shanyao). The main active constituents in rehmannia and cornus are iridoid glycosides (see typical structure, below) which have numerous potential benefits, including reducing liver inflammation, lowering blood sugar, protecting the retina, and alleviating menopausal conditions, such as hot flashes and osteoporosis. While rehmannia and cornus are the most frequently used herb formula ingredients with iridoids, other Chinese herbs also contain them as active ingredients, mainly gardenia and plantago seed. Both of those herbs help to treat damp accumulation and heat. In Western herbalism, Vitex agnus-castus (chasteberry) is used for menstrual and menopausal disorders; it mainly relies on iridoids as active components.
Iridoid Complex is a combination of concentrated herb extracts rich in iridoids with the addition of two herbs that have other types of active constituents: dioscorea and nuphar. The role of dioscorea has been explained in the text above. Nuphar is not mentioned in most of the Materia Medica books, and much of the Chinese supply is used for the demand in Japan for this item as a health product. It is a distant relative of the lotus, sometimes called the "yellow pond lily." The Chinese name is chuangu (river bone), referring to the fact that it is grown in water and its rhizome is white like bone. It has the properties of eliminating excess water and promoting a mild sedative effect. It is especially used by women. The sedative action of the herb is due to alkaloids (lotus has sedative action due to alkaloids as well).
The suggested method of using Iridoid Complex is to have patients take 1 tablet three times daily (or 2 tablets twice daily) along with another therapy, such as a kidney tonic formula, in order to greatly increase the amount of the key ingredients and better assure effectiveness of the treatment.
REFERENCES
Bensky D and Barolet R, Chinese Herbal Medicine: Formulas and Strategies, Eastland Press, Seattle, WA.
Yang Yifan, Chinese Herbal Medicines Comparisons and Characteristics, 2002 Churchill Livingstone, London.
Liagre B, et al., Diosgenin, a plant steroid, induces apoptosis in human rheumatoid arthritis synoviocytes with COX-2 overexpression, Arthritis Research and Therapy 2004; 6(4): 373-383.
Huang Bingshan and Wang Yuxia, Thousand Formulas and Thousand Herbs of Traditional Chinese Medicine, volume 2, 1993 Heilongjiang Education Press, Harbin.
Chang Minyi, Anticancer Medicinal Herbs, 1992 Hunan Science and Technology Publishing House, Changsha.
Ke Hu and Yao Xinsheng, The cytotoxicity of methyl protodioscin against human cancer cell lines in vitro, Cancer Investigations 2003; 21(3): 389-393.
December 2005