return to itm online
MEDICINE IN THE TIBETAN REFUGEE COMMUNITY
Statistics from the Drepung Gomang Monastery
In Karnataka State, southwestern India (see Figure 1), about 20,000 Tibetan refugees struggle to maintain their traditional culture in exile (see: Drepung Gomang; and From Tibet to India). They are confronted with extreme weather conditions (heat during the dry season and monsoons at other times), limited diet, crowded living conditions, and years of minimal access to medical care.
One of the monastic settlements in Karnataka, the Drepung Gomang Buddhist Monastic University, built a medical center (Drepung Community Dispensary; see Figures 2 and 3) during 1998-1999. The project was inspired by an unfortunate event: one of the highly realized teachers at the University died suddenly, without there being any chance to save him by local medical interventions. Soon after it was built and consecrated, the dispensary was being fully utilized, with a staff of four (one medical doctor trained in Tibet, plus three assistants; see Figure 4) and a patient load of 150 per day. The dispensary mainly provides Western medicines (including IV drip when needed) and standard first aid procedures (e.g., wound dressings), but also provides Ayurvedic herbal remedies and Chinese style acupuncture therapy. Traditional Tibetan remedies may be recommended at the facility, but these are available at a separate clinic (a branch of the Tibetan Medicine and Astrology Institute of Dharamsala, with a patient load of about 30 per day) that is about a 15 minute walk from the Drepung Dispensary.
The Drepung Community Dispensary primarily serves the 4,000 refugees of the Drepung Monastery (1,500 at Drepung Gomang and 2,500 at Drepung Loseling), which provides about 65% of the dispensary patients; a number of lay refugees and even some Indian workers who are doing construction projects in the Tibetan refugee area make up most of the remaining 35% of the patient load. There is one hospital in the refugee area run by the Tibetan Health Department (Doeguling Resettlement Hospital) which suffers from poor management and constant transfer of doctors from one settlement to another, and some of the other monastic organizations have very small dispensaries.
Drepung has collected and reported data on the health problems commonly seen at the clinic (see Table 1) and the drugs that are most often prescribed to treat them (see Table 2). In the event that a disease condition is beyond what can be treated at the Drepung Dispensary, the patient is referred to a hospital in the nearby Indian city of Hubli (about 45 km from Drepung).
Other efforts to promote the health of the monks at Drepung include: cultivating fruits and vegetables to enrich the diet (an irrigation system has been installed), presenting preventive health care recommendations to the community (an LCD projector was purchased to allow large groups to view information during the presentations), and expanding the range of remedies available for the Dispensary (including modern drugs and herbs). These projects are partially funded by an ITM research and education grant, by direct donations from interested persons (see the Appendix for information about other projects), and through the efforts of tour groups visiting the U.S. (where they provide demonstrations of sand mandala, spiritual theater, pujas, etc.; for a schedule, visit: www.gomangtour.org). Drepung Gomang Monastic University and its clinic may be reached at P.O. Tibetan Colony-581 411; District North Karnara, Karnataka State, India.
Table 1. Frequently Seen Disorders at the Drepung Dispensary
In this table, disorders have been categorized roughly into three groups: acute infections, chronic infections, and pain disorders. Under the heading typical causes, three major problems are to be noted: there are many hundreds of monks living in close quarters and using limited facilities (making it easier to transmit communicable diseases); there is limited hygiene (in that hot water, readily available clean water, and other sanitary facilities are limited); and there can easily be food and water contamination (due to the climate and the general lack of sanitation controls in the area).
Disorder
Typical Causes
Therapies Commonly Used
Acute Infectious Diseases
Bacterial infection of the eyes
poor immunity, limited hygiene, high density living quarters
gentamycin eye drops, norfloxacin eye drops
Common cold
high density living quarters
phenylpropanolamine (decongestant); Cold-Off (proprietary combination)
Cough (bronchitis, sinus drainage due to sinusitis)
weather conditions, close living quarters
cough syrups (Ayurvedic or Western)
Fever (due to various infections)
bacterial infection
paracetamol (antipyretic), ampicillin, penicillin
Diarrhea, gastroenteritis, salmonellosis, dysentery
contamination of food and water supplies, limited food storage
loperamide (for symptoms), metronidazale, nalidixic acid
Hepatitis A (jaundice)
contamination of food and water supplies, limited hygiene
paracetamol, aspirin, vamex (for vomiting); Ayurvedic herbs for liver disorders
Fungal infections (e.g., ringworm)
climate, high density living quarters
qualiderm cream
Others: wound infections, bone/joint infections, mouth infections
limited hygiene
amoxicillin
Chronic Infections
Hepatitis (mainly hepatitis B)
endemic to the area; transmitted by limited hygiene
Ayurvedic herbal formulas
Gastric ulcer (mainly Helicobacter pylori)
weak immune functions, unknown exposure factors
unseparazol, omeprazol, famotidine, antacids
Pain
Knee pain, leg pain
strenuous work; sitting meditation, arthritis
ibuprofen, paracetamol, aspirin, omnigel cream, diclofenac
Table 2. Review of the Main Western Drugs and Their Uses
| | | |
| --- | --- | --- |
| Drug | General Use | Comments |
| Amoxicillin | Bacterial infection | This is a modification of penicillin, commonly referred to as "broad-spectrum penicillin." |
| Ampicillin | Infection | This is a modification of penicillin. |
| Diclofenac | inflammation | This drug is used for treatment of arthritis; it is a non-steroidal antiinflammatory. The drug has a high profile of side effects and drug interactions, so its use is limited (can be used topically). |
| Famotidine | gastric acid reflux | This drug inhibits esophageal irritation due to acid reflux, a condition commonly known as heart burn. The drug is sometimes better known by one of its brand names: Pepcid. |
| Gentamicin | bacterial infection | This drug is not commonly used internally; usually saved for serious infections when other antibiotics fail. Useful topically for eye infections. |
| Ibuprofen | pain due to inflammation | This is a widely used antiinflammatory drug and pain reliever; it is sometimes known by one of its brand names: Motrin. |
| Loperamide | diarrhea | This drug reduces the symptom of diarrhea by reducing intestinal peristalsis. It is sometimes known by one of its brand names: Imodium. |
| Metronidazale | amoebic dysentery | This drug inhibits amoebas and some anaerobic bacteria; it is often known by one of its brand names: Flagyl. |
| Nalidixic acid | bacterial infection | Mainly used for urinary tract infections; may be adopted for use in intestinal infections (bacterial). |
| Norfloxacin | bacterial infection | This drug is provided as an ophthalmic solution for eye infections. |
| Omeprazol | gastric acid excess | This drug is used to inhibit excess production of gastric acid that can irritate gastric ulcers and contribute to acid reflux disease. It is sometimes known by one of its brand names: Prilosec. |
| Omnigel | analgesic ointment | This is a topical preparation for inflammation, such as arthritis, with diclofenac, salicylate, and menthol. |
| Paracetamol (Acetaminophen) | pain, fever | This drug is most widely known in America by the brand name Tylenol. It is elected over aspirin for those who have gastric ulcers or otherwise have sensitive stomachs. |
| Penicillin | bacterial infection | This is a widely used antibacterial drug. |
| Phenylpropanolamine | decongestant | This is a widely used drug, referred to as PPA, that reduces nasal congestion. Recently, the U.S. FDA called for an end to its use as a result of reports of rare but serious cardiovascular complications from its use. |
| Qualiderm | anti-infection cream | A mixture of antibiotics: gentamicin (for bacteria), tolnaftate (the active ingredient in Tinactin for fungal infections); iodochlorohydroxyquin (antifungal and antibacterial), and the steroidal antiinflammatory betamethasone. |
Table 3. Review of the Ayurvedic Formulas and Their Uses
Ayurvedic formulas were provided by Universal Medicaments (Nagpur, India) for the Drepung Community Dispensary.
| | | |
| --- | --- | --- |
| Formula | General Use | Comments |
| Chyawanprash | aids digestion and respiratory system; rejuvinative for the elderly | This is an herbal honey that contains 36 herbs, mainly Emblica officinalis, Pueraria tuberosa, Piper longum, Santalum album, and Elletaria cardamom. |
| Herbokam | antistress agent; used for fatigue due to overwork and insomnia due to nervousness | This is provided in tablets and capsules and is comprised of 8 herbal ingredients, mainly Withania somnifera, Nardostachys jatamansi, Bacopa monierii, Evolvulus aisinoides, and Solanum nigrum. |
| Unicough | cough, asthmatic breathing, difficult expectoration | This is a syrup with 16 herbal ingredients, mainly Acacia catechu, Adhatoda zeylenica, Ruta graveolens, licorice, and basil, with thymol and menthol. |
| Valiliv Forte | liver protectant in viral hepatitis | This is a syrup comprised of 10 herbs, mainly Eclipta alba, Terminalia arjuna, Emblica ribes, Crataeva nurvala, Solanum nigrum, and Fumaria parviflora. |
APPENDIX: An American Seeing Through Tibetan Eyes by Chela Kunasz
Chela Kunasz, of Boulder, Colorado, has developed several projects to help Tibetan refugees in Karnataka, including Drepung Gomang (through Colorado Friends of Tibet-the Tibetan Settlements in India Project). This is her story; information on the other projects can be viewed on Chela's own web site (www.kunasz.com). Here, she describes the problem of bleeding ulcers, one of the main health problems for the refugees.
Having been through a lot of pain with a spinal fusion surgery in 1982 and worried that I might lose the ability to walk or climb, even stairs. I jumped at the opportunity to travel to Tibet in the fall of 1983. I thought of it as a treat for myself, seeing the fabled Shangri-La-like Tibet, seeing the mountains, the colorful people, the legendary city of Lhasa, and perhaps learning a little about their religion that would help me deal with physical pain and uncertainties about my medical future.
What I actually experienced that autumn of 1983 was more than the exquisite mountains, including Everest at rosy dawn and the fabled city. I encountered a people who had had their lives and land destroyed by the People's Liberation Army and had experienced oppression and torture originating from the Chinese Government in Beijing. With their forests plundered and overwhelmed by an influx of immigrants from the Chinese mainland who were given Tibetan land and opportunities, many of the native Tibetans still had a very special quality. I wrote in my dairy on the plane on my way home:
"I have to begin to learn how to give, to give as the mountain people here gave to me, wholeheatedly, with joy, clarity, and without a calculator running in the back of my head." I somehow felt that a previously undetected burden had been lifted from my back, which had experienced so much pain, but that I did not understand the nature of the burden or the lifting.
A lot happened in the next years, including my slowly starting an involvement with Tibetan refugees in southern India. I became particularly involved with a settlement named Doeguling near the Indian town of Mundgod, in Karnataka State, India. It is a so-called "protected area" which is home to 14,000 Tibetan refugees. A special permit from the India Government is required for a stay there by non-Indian citizens. When I first visited Doeguling in 1987, I was a guest and was given a great time; slowly, as I made more visits, I became a family member progressively shown their pain and suffering as well as their cheerful courage and humor.
Over time, my friends and I have started 6 different projects with and for the Tibetans now living there. Together, we have projects with and for Tibetan women, including nuns at the Jangchup Choling Nunnery in Village #3 and for laywomen in the 9 villages of the settlement; projects with and for monks at the Drepung Gomang Monastery, and with and for laymen in the villages and the old people's home, the GenzoKhang. There is also aid specifically for children and young people, both through the Office of the Representative of His Holiness the Dalai Lama in Village #3 and the Drepung Gomang School Project.
There are also several projects directly concerned with health issues. The Gungru Khangtsen Health Fund is a cooperative and democratically run health project which provides some funds for medical expenses for monks from Tibet who have no where else to turn. The project also is involved in health education, sanitation projects (such as providing more clean water, bathing areas, and dealing with dumps and sewage.)
The local Doeguling Hospital is run by an amazing dynamo of a Tibetan who had polio as a child. This talented man has completely turned the hospital around. When I visited the Hospital in 1994, it had mold covering many walls and people were getting sick from the mold at the hospital. Waterfalls cascaded out of the walls during the monsoon! Almost nothing worked in terms of diagnostic equipment. Now there is a Tibetan dentist, a Tibetan lab technician, and other trained personnel, appropriate equipment, and a new TB wing. With so many major accomplishments it should not be held against the Hospital that I had the experience below.
The above background sets the scene for the information below from my diary and memory of what happened and what I thought that day in Doeguling.
October 27, 1997
"I can't believe that the local Hospital has not been telling people about the known origin and treatment for serious recurring, bleeding ulcers! They know and understand it themselves. I've learned today that perhaps half of the 14,000 people in this camp have this problem to some degree. For some of the worst cases it is also looking like they are more likely to develop stomach cancer after many recurrences of the ulcers. The Hospital employees told me that they don't tell people about the antibiotic cure because many of the people don't have the $30.00 needed for the 3-week course of 2 antibiotics involved in the treatment of the ulcers! Another reason is that the well meaning small clinics in the area keep giving out palliative Pepto-Bismol type treatments and giving the impression that if the hospital charges more for their treatment, the patients are being ripped off.
So today, having worked with the Gungru Khangtsen monks as a start, I started a program to identify candidates with these terrible, long-term recurrent bleeding ulcers caused by the Helicobacter pylori bacteria in bad food and water, and to pre-pay the $30 out of my and perhaps others' pockets. The Tibetans and I began to work on how to make sure the complex instructions for taking the antibiotics are well explained, written down, and shared, as well as understood by others living with the patients so that the regimen would really be followed. When the Hospital saw that we might be able to turn things around, everyone there put a lot of effort into the project. It was an all-morning epic, sitting there in the heat in the local Doeguling Hospital, but those of us hoping for success were excited. By the end of the morning, the patients I was with just looked sick. It turned out that several had more than just ulcers, another thing my inexperienced mind had not considered. And they hadn't had the funds to get their other problems dealt with either.
Earlier, some of the monks had shared with me the terrible scars and sores from skin diseases which Tibetan refugees seem to get after arriving in India. They do not have any resistance to a variety of unpleasant diseases which they did not have in high, colder Tibet. The local Indians do not seem to get these and the doctors don't know how to cure them. Often, after about six years of suffering from these problems, resistance comes and the problems diminish. But I was really shocked at how much I did not know they were suffering when they raised their vests or robes and showed me the awful sores on their chests and legs. It seemed a metaphor for how we so often just see the surface and don't know the suffering which does not show. Others had more ordinary skin problems, some from lack of a change of clothes or access to clean water in which to do laundry and bathe. So later I met with them and we made plans for more shower areas, among other plans. I'd also like to find a doctor who could identify the strange skin problem the Tibetans get, but local doctors can't understand.
When another refugee monk had talked to me about his heart problems and high blood pressure, I had asked about diet. It seems so easy in our more comfortable communities here in Boulder, to say "Be careful about your diet." If you are given a bowl of food, with salt and a lot of oily bread, you have the option of not eating it or eating it. And then there is the water. Today, seeing the ravages of bad water, I think I've never been so grateful for just plain drinkable water!
And today, I again reflected on my own difficulties with diet and digestion after the morphine and codeine I was given during and after my surgeries. I feel so lucky about my options. I also still feel the suffering of those I met and the quiet grace with which they are carrying on their lives as best they can. Since knowing and working with these brave and courageous people who have lost their Land of the Snows, many of their relatives, and their health, my own story has lost its primacy and when I'm having a hard day, I remember the glowing quality some of these people have, the help they are giving each other, and the smiles and gratitude of all who have had their health restored. I myself was so lucky to be healed by these dear friends today."
October 29, 1997
"Today, I visited the Jangchup Choling Nunnery again. I spent some time with a number of the women there and I talked to them about the same issues I discussed with the group of monks. I gave one of the nuns I met, who has a long-term recurring ulcer problem, a letter which she will be able to take to the Hospital for a treatment. One of my friends also staying and working here in the settlement this month has donated some more funds, so we can start treatments at both the monastery and nunnery in a somewhat controlled environment. Later, if we see how this works and we develop some experience and work out any kinks, I definitely want to broaden this to the rest of the Village people. Since I've tried and failed to get the long-expiration date Amoxicillin and Metronidazole which I need for this (the Omneprazole is not so expensive), I'm still concerned about the best way to proceed after we get this program going in a small way. Some day, I hope we can find a way to get these antibiotics with at least a year to go before expiration. Then I think we might be able to get this shipped to Doeguling through an organization such as Direct Relief International. For now, I'm just hopeful that this project could begin to help reduce this unnecessary suffering for so many people."
December 2000

Figure 1: Map of India showing Karnataka State.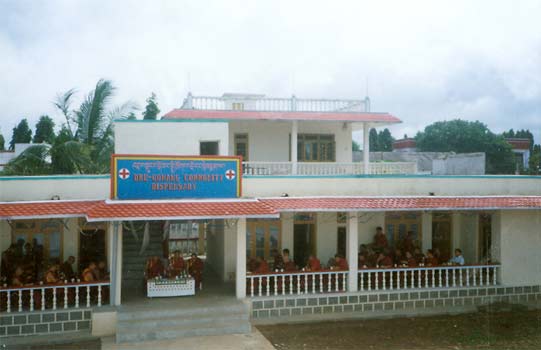 Figure 2: Exterior of Drepung Dispensary.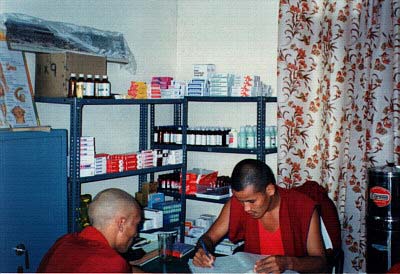 Figure 3: Interior office of Drepung Dispensary.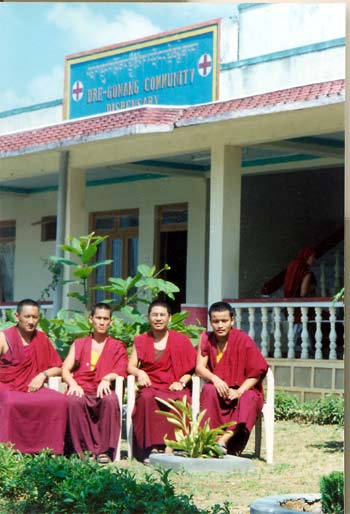 Figure 4: Drepung Dispensary staff.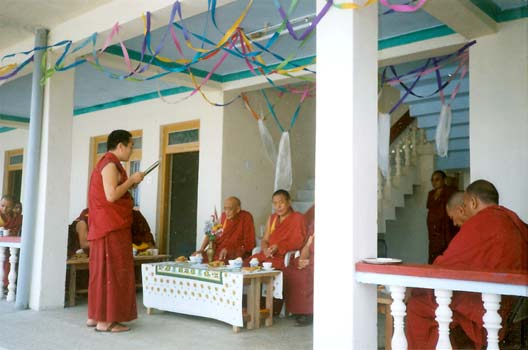 Figure 5: Drepung Director reading acknowledgments to the donors.

Figure 6: One of the Tibetan doctors at Drepung.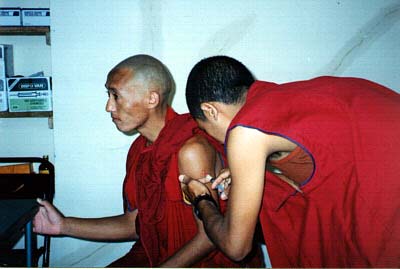 Figure 7: A monk receiving an inoculation.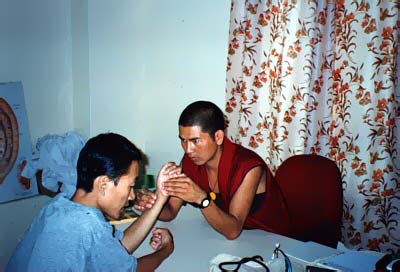 Figure 8: A doctor performing traditional pulse diagnosis.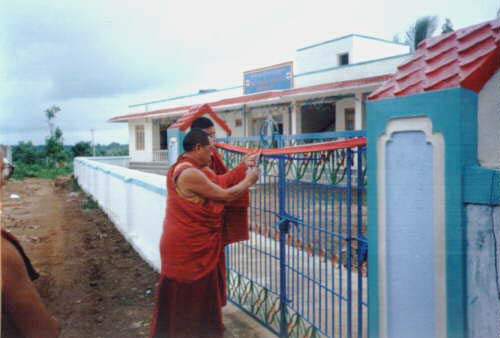 Figure 9:The cutting of the ribbon, officially opening Drepung Gomang.