Return to ITM Online
EXCESSIVE UTERINE BLEEDING TREATED WITH SARACA,
AN AYURVEDIC HERB
BACKGROUND
Excessive uterine bleeding (known as menorrhagia when it occurs during menstruation, and as metrorrhagia when it occurs as "mid-cycle" bleeding) is a common problem, particularly affecting women in the age range 35-50. This condition may be due to hormonal imbalance, fibroids, or other causes. In addition to being an inconvenience, excessive bleeding can contribute to anemia. Often, it is difficult to control the bleeding without resorting to treatments that may have serious adverse effects, such as hormone therapy or surgery. Therefore, natural therapies are often sought.
In the field of Ayurvedic medicine, there is one herb that stands out as especially useful for treating excessive uterine bleeding: the bark of Saraca asoka (also called Saraca indica), a small evergreen tree native to India. There it is often called Asoka (or Ashoka, Ashok, or Sita Ashok), from which the species name is derived. Asoka means "taking away sorrow," and refers to the story of Sita, who was in a desperate situation, and blamed herself for endangering her own life and the lives of others.
| | |
| --- | --- |
| | The tree is a member of the family Caesalpinaceae (which botanists have divided off from the larger family Fabaceae). The primary native habitat is the Himalayan foothills, in valleys and up to an altitude of about 600-700 meters (~2,000 feet), but it is found throughout much of India, where it is considered a sacred tree. It has flowers that combine yellow, orange, and red colors; the heartwood also has a reddish color. The bark, rich in tannins and cyanidins (red colored compounds), is the primary medicinal part; it is used as an astringent for menstrual bleeding, for bleeding hemorrhoids, bleeding ulcers, and for hemorrhagic dysentery. |
In Indian Materia Medica (1908; revised and enlarged in 1954), the method of using saraca bark is suggested as follows:
The bark is very useful in uterine affections, especially in menorrhagia due to uterine fibroids and other causes. Decoction of the bark is prepared by boiling 4 ounces of the bark in 4 ounces of milk and 16 ounces of water until the latter is evaporated and this quantity [the remaining 4 ounces] is given with milk in 2 or 3 divided doses during the course of the day for menorrhagia.
Dr. R. Vatsyayan, of the Sanjivani Ayurvedic Center in north India, commented that:
Ashoka has been described as astringent and bitter in taste and light and dry in effect. Ayurvedic texts describe more than 50 preparations of Ashoka for the treatment of a variety of ailments in which its stem bark is used as one of the main ingredients. The herb stimulates the uterus, making helpful contractions more frequent and prolonged. Ashoka also has an astringent but stimulating effect on the endometrium and the ovarian tissues, and is useful in many gynecological problems, such as uterine bleeding associated with fibroids and the treatment of leucorrhoea….Ashoka has been efficacious in regularizing menstrual disturbances without producing any side effects. Its effect on the ovarian tissue may produce an estrogen-like activity that enhances the repair of the endometrium and stops bleeding. In metrorrhagia, in addition to decreasing the uterine bleeding, it regularizes the interval between two cycles. Besides treating the symptoms of fatigue and generalized weakness, the use of Ashoka provides immense relief from painful menses, the premenstrual syndrome, and non-specific white discharge [leukorrhea].
In addition to its aforementioned uses, saraca is considered beneficial in the treatment of dyspepsia and indigestion, thirst, burning sensation, blood disorders, fractures, tumors (unexplained swellings), and for colic and menstrual cramps; topically it is used for treating bites, ulcerations, and skin discoloration. The following paragraph is based on an article by Pankaj Oudhia (a specialist in agriculture and ethnobotany from Raipur, India), describing the work of healers in Chhattisgarh, a state in west-central India; the use of the dried saraca bark is relayed here (flowers, seeds, leaves, and roots are also used by some native healers):
It is general recommendation to boil the saraca bark with milk, then remove the bark and drink the milk; for taste, sugar can be added. The healers suggest every female take this milk once a day, up to three days consecutively, every 3 months, as preventive to gynecological troubles. In case of menorrhagia, the healers boil the bark in water or milk or a combination of the two; in this decoction many other herbs are added. The decoction is given to the patients every morning, taken on an empty stomach; it is also used externally for washing. For example, the decoction of saraca bark is considered good in treatment of bleeding piles, taken internally and applied externally. Bone setters use this herb, like Arjun (bark of Terminalia arjuna). Patients having bone fracture are advised to take Ashok bark (alone or with Arjun) with water to help in quick reunion of the bone. Many healers soak the bark the whole night in water and prepare a paste the next morning. This paste is applied externally over injured bones in order to hasten the healing process and act as a pain reliever. As a memory tonic, Brahmi (tops of Bacopa sp.) are commonly used, but saraca can be added to improve the effects. In case of stomatitis (oral ulcerations), the decoction of saraca is used for gargling. The powdered bark is used to prepare herbal tooth powder along with other herbs mainly Akarkara (Spilanthes acmella). The decoction of ashok bark is used to wash the face to remove black spots.
There are some traditional Ashoka formulations frequently used. The most common is Ashokarishta (Asokarista); a rishta is a fermented preparation in liquid form (the fermentation yields a small amount of alcohol, about 2%). The ingredients may vary among the products; the one shown here (by Vadik Herbs) includes:

aloe vera, honey, iron powder, ginger, long pepper, cloves, cinnamon, cardamom, mesua (ironwood), plumbago, embelia, saindapus, chaba, juniper, coriander, picrorrhiza, cyperus, triphala (three myrobalans fruits), vandas, cedrus, turmeric, berberis, clematis, licorice, croton root, iris, abutilon, tribulus, fennel, balanites, anacycus, blepharis, boerhaavia, symplocod, cassia, woodfordia.

The popular Ashokarishta products are sold as "female tonics" or "uterine tonics." These are taken in doses of 15-30 ml (about 1/2 to 1 fluid ounce), two to three times per day.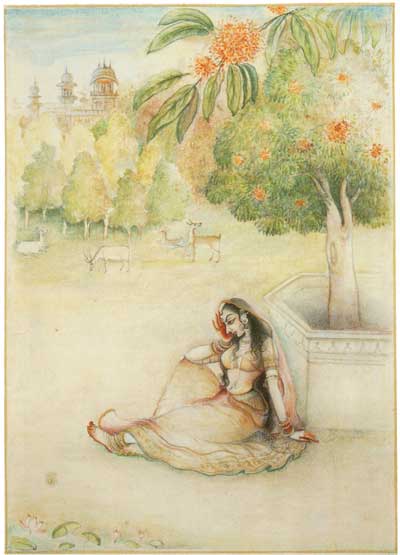 Illustration of a woman sitting beneath a saraca tree from Garden of Life (Naveen Patnaik; 1993 Aquarian Books)
September 2004