TIANWANG BUXIN DAN
Famous Patent for Nourishing The Heart
Tianwang Buxin Dan (Ginseng and Zizyphus Formula) is one of the most widely used patent remedies for nourishing the heart and calming the mind, mainly prescribed for insomnia. The name makes reference to the "King of Heaven" or "Heavenly King" (tian = heaven; wang = king, ruler) and to the action of supplementing the heart (buxin), being prepared in the form of a large pill rolled in cinnabar (dan; without cinnabar, the preparation should be called simply a pill: wan). The formula was first recorded in the Shesheng Mipou (Secret Investigations into Obtaining Health) written by Hong Ji in 1638 A.D., just before the fall of the Ming Dynasty (yielding to the Qing Dynasty in 1644). There is a story explaining the formula's unusual name-that Hong Ji had a dream in which the heavenly king visited him and gave him the formula. However, Tianwang Buxin Dan is actually a relatively simple modification of a much earlier prescription, Pingbu Zhenxin Dan, from the famous book of the Song Dynasty, Taiping Huimin Hejiju Fang. The Song Dynasty formulation remained characteristic of other sedative prescriptions described just a few decades prior to Hong Ji's work.
The recipe for Tianwang Buxin Dan is reported in differing texts with markedly different proportions of ingredients (see Appendix 1 for details). The herb described as the key herb of the formula, rehmannia, is present in proportions ranging from 8% to 32% of the total weight. Following is the recipe presented in Chinese Herbal Medicine Formulations and Strategies (1), in which rehmannia makes up 31% of the formula (not including the cinnabar coating for the pills):
| | |
| --- | --- |
| Ingredient | Amount |
| Rehmannia, raw | 120 grams |
| Schizandra | 30 grams |
| Tang-kuei | 30 grams |
| Asparagus | 30 grams |
| Ophiopogon | 30 grams |
| Biota | 30 grams |
| Zizyphus | 30 grams |
| Ginseng | 15 grams |
| Salvia | 15 grams |
| Scrophularia | 15 grams |
| Hoelen | 15 grams |
| Polygala | 15 grams |
| Platycodon | 15 grams |
| Total | 390 grams |
The herbs are powdered and then made into honey pills, typically yielding a bolus of about 9 grams (about 2/3 herbs, 1/3 honey), then rolled in cinnabar. One pill is taken each time, with warm water. Usual dosing is twice per day. The amount of cinnabar, as is the case with the other ingredients, may vary according to recipe; in this text, 15 grams of cinnabar is specified for the batch, which would yield about 65 pills, each having 230 mg of cinnabar (about 2.6% of the 9 gram honey pill would be cinnabar, mercury sulfide). Although there has been a move towards elimination of cinnabar from the formula due to concerns about its content of mercury, some manufacturers retain it. For example, in a California FDA analysis of patents (2), it was found that Tianwang Buxin Wan (in the form of small pills rather than large honey pills) from the Minkang Drug Manufactory had about 1600 ppm of mercury (the mercury comprising 0.16% of the pill).
Tianwang Buxin Dan, if made as a decoction, will yield a thick, rich, slippery syrup. This texture is a result of the fact that there are several mucilaginous ingredients, mainly rehmannia, scrophularia, ophiopogon, asparagus, platycodon, and hoelen. The mucilage is comprised of complex polysaccharides, such as starch, that make up a large portion of these root herbs. The formula is cold in nature, with about 60% of the herbs (by proportion of weight) having a cold quality; those herbs are complemented by a relatively small amount of gently warming agents-schizandra, tang-kuei, zizyphus, polygala-and some herbs that are neutral: hoelen, biota, and platycodon. The taste is sweet and bitter, reflecting the formula's tonifying and heat-clearing nature.
The effect of using the formula is to nourish deficiency, particularly deficiency of yin and blood, and to clear heat. Several herbs of the formula have mild sedative effects, including ginseng, salvia, schizandra, polygala, biota, and zizyphus. The formula is mainly given to those showing deficiency syndrome with dryness, such as dry stool, dry mouth, and little tongue coating, and with heat (tongue body is red, pulse is rapid). The formula is probably best used in cases of insomnia with constipation and for those who feel warm at night, perhaps producing night sweating, and best avoided in cases of diarrhea and for persons who tend to be cold.
Pingbu Zhenxin Dan (Mildly Tonifying and Supporting the Heart Pill) from which this prescription is derived, has nine ingredients in common: ginseng, hoelen, polygala, rehmannia, asparagus, ophiopogon, biota, zizyphus, and cinnabar (3). These herbs mainly have a tonic effect and are reputed to have a calming quality. However, Pingbu Zhenxin Dan differs from Tianwang Buxin Dan by having plantago seed, dragon's teeth, dioscorea, cinnamon bark, and licorice, rather than scrophularia, salvia, schizandra, platycodon, and tang-kuei. Plantago seed is here used as a kidney tonic and astringent (having an effect somewhat like that of schizandra); the combination of dioscorea, cinnamon bark, and plantago seed provides a tonifying and warming action for the kidneys. Whereas Tianwang Buxin Dan is mainly indicated for yin deficiency and heat, Pingbu Zhenxin Dan is indicated for heart qi and blood deficiency. Rehmannia, a key component of both formulas, is used in different preparations: cooked rehmannia (more warming, aiding kidney tonification and nourishing blood) in Pingbu Zhenxin Dan versus raw rehmannia (cold, pacifying the heart, and nourishing yin) in Tianwang Buxin Dan. The symptomatic indications for use of the two formulas are similar, but the traditional Chinese diagnostic criteria for their application, such as tongue appearance and pulse feeling, differ.
Yangxin Tang, a formula similar to Tianwang Buxin Dan, had been presented in the book Gujin Yitong Daquan by Xu Chunfu in 1556 A.D., about 80 years prior to Hong Ji's formulation. Yangxin Tang (Heart Nourishing Decoction) was made with ginseng, hoelen, schizandra, rehmannia (both cooked and raw), tang-kuei ophiopogon, biota, zizyphus, and licorice (1, 3). All these ingredients, except licorice, are in Tianwang Buxin Dan. The indications for these formulas are quite similar, but Yangxin Tang lacks three of the heat clearing herbs (scrophularia, asparagus, and salvia; the first two are also yin nourishing herbs), so Yangxin Tang is more focused on the treatment of dryness associated with blood deficiency and less on treating the heat syndrome associated with yin deficiency. There are some other formulas called Yangxin Tang that have slightly different ingredients and should not be confused with this one. For example, in his book Yifang Jijie (1682 A.D.), Wang Ang described a formula by that name that includes the common ingredients of ginseng, hoelen, schizandra, tang-kuei, biota, zizyphus, and licorice; it is also mainly used for heart blood deficiency.
According to C.S. Cheung (4), disorders of the heart (xin) may be classified into 6 categories (4):
heart qi deficiency, treated by Xu's Yangxin Tang (Zizyphus and Biota Combination);
heart yang deficiency, treated by Zhi Gancao Tang (Baked Licorice Combination);
heart blood deficiency, treated by Guipi Tang (Ginseng and Longan Combination);
heart yin deficiency, treated by Tianwang Buxin Dan (Ginseng and Zizyphus Combination);
upward flaming of heart fire, treated by Sanhuang Qingxin Tang (Coptis and Rhubarb Combination);
heart bi numbness, treated by Gualou Xiebai Banxia Tang (Trichosanthes, Bakeri, and Pinellia Comb.)
In this standard scheme of heart syndromes, Wang Ang's Yangxin Tang treats the categories of heart blood deficiency and heart qi deficiency, while Pingbu Zhenxin Dan mainly treats heart qi and heart yang deficiencies. Key herbs for heart qi deficiency are ginseng and licorice; for yang deficiency, cinnamon is important; for blood deficiency, tang-kuei and zizyphus are important; for yin deficiency, raw rehmannia and ophiopogon are key herbs; for upward flaming fire, coptis is the central herb, and for heart bi numbness (chest pain, sensation of fullness), trichosanthes fruit is important.
The effect of the herbs in Tianwang Buxin Dan, in relation to its therapeutic category, have been described by Cheung as follows (4):
The principle of treatment is to moisten the yin, clear the heat, nurture the blood and calm the spirit. Raw rehmannia as the chief herb in the prescription, moistens the yin, clears heat, and prevents any disturbances of spirit by deficiency. Scrophularia, ophiopogon, and asparagus assist rehmannia in moistening the yin and clearing heat. Salvia and tang-kuei nourish the blood and nurture the heart. The heart spirit becomes calm when the blood of the heart is repleted. Ginseng and hoelen benefit the heart qi and calm the heart spirit; biota and polygala calm the heart and pacify the spirit. Platycodon functions to carry the other herbs upwards; cinnabar is used to coat the pills: both of them act as messengers to enter the heart.
FORMULA ACTIONS ACCORDING TO PHARMACOLOGY AND CHEMICAL CONSTITUENTS
Tianwang Buxin Dan is recognized in China as a highly effective remedy for insomnia in yin deficiency cases. From the modern viewpoint, the basis for this effectiveness can be partly explained in terms of the effects of the known active constituents. The herb formula may be depicted as follows:
| | | |
| --- | --- | --- |
| Ingredients | Active Constituent Group | Effects |
| Ginseng, polygala, platycodon, zizyphus | saponins (triterpenes) | sedative, promotes circulation, reduces inflammation |
| Ophiopogon, asparagus | steroidal glycosides (triterpenes) | clear heat, moisten dryness, resolve phlegm, reduce inflammation, antipyretic |
| Rehmannia, scrophularia | iridoid glycosides (monoterpenes) | clear heat, reduce inflammation, regulate hormones, moisten dryness, antipyretic |
| Others: salvia, hoelen, schizandra, tang-kuei, biota | various (quinones, lignans, essential oils) | sedative and tonic effects |
The majority of the herbs contain glycosides of the terpene series that fall into three groups: iridoids, triterpene glycosides (saponins), and steroid glycosides (a glycoside is merely a molecule attached to glucose other sugar; the sugar may improve the absorption of the ingested substance into the blood stream). Although the actions of the individual terpene glycosides vary, the general effects are sedative, antipyretic, and anti-inflammatory. Persons who suffer from chronic inflammatory diseases that have consequent insomnia would likely benefit from using such a formula. The anti-inflammatory action of the formula has been relied upon in treating conditions such as oral ulcerations and chronic urticaria, particularly when the individual suffering from these conditions also experiences heart palpitations, emotional distress, or insomnia.
Although the formula was developed to treat a heat syndrome with yin deficiency, it has been applied in other areas. For example, dryness syndromes with yin and blood deficiency leading to the symptom pattern of emotional distress and insomnia, conditions congruent with the indications of this formula, are common during menopause. Therefore, this formula is frequently mentioned as a therapy for menopausal women.
August 2001
APPENDIX 1: Varying Recipes for Tianwang Buxin Dan
The proportions of ingredients used to make Tianwang Buxin Dan are reported quite differently from one text to another. Following is the recipe relayed in 5 texts: Thousand Formulas and Thousand Herbs of Traditional Chinese Medicine (3), Advanced Textbook of Traditional Chinese Medicine and Pharmacology (5), Chinese English Manual of Commonly Used Prescriptions in Traditional Chinese Medicine (6), Chinese Herbal Medicine Formulas and Strategies (1), and Pharmacopoeia of the PRC (7):
Ingredient

Thousand Formulas

Advanced Textbook

Chinese-English Manual

Formulas & Strategies

Pharmacopoeia of the PRC*

Ginseng

15 g

15 g

10 g*

15 g

25 g

Salvia

15 g

15 g

15 g

15 g

25 g

Scrophularia

15 g

15 g

10 g

15 g

25 g

Hoelen

15 g

15 g

10 g

15 g

25 g

Schizandra

15 g

15 g

6 g

30 g

50 g

Polygala

15 g

15 g

6 g

15 g

25 g

Platycodon

15 g

15 g

3 g

15 g

25 g

Rehmannia, raw

12 g

120 g

20 g

120 g

200 g

Tang-kuei

6 g

60 g

10 g

30 g

25 g

Asparagus

6 g

60 g

15 g

30 g

50 g

Ophiopogon

6 g

60 g

15 g

30 g

50 g

Biota

6 g

60 g

15 g

30 g

30 g

Zizyphus

6 g

60 g

15 g

30 g

50 g

Total

147 g

525 g

150 g

390 g

655 g

*Codonopsis substitutes for ginseng; two herbs are added: acorus (25 grams) and licorice (25 grams).
Although the individual and total amounts vary widely, the amounts of the first four ingredients (ginseng, salvia, scrophularia, and hoelen) are relatively consistent, ranging from 10-15 grams for all recipes except the enlarged Pharmacopoeia version. By contrast, there is a five-fold or greater range of dosages for the other items. Clearly, the formula will come out quite differently depending upon the recipe that is followed.
REFERENCES
Bensky D and Barolet R, Chinese Herbal Medicine: Formulas and Strategies, 1990 rev. ed., Eastland Press, Seattle, WA.
Ko R and Au A, 1997-1998 Compendium of Asian Patent Medicines, 1999 California Department of Health Services, Sacramento, CA.
Huang Bingshan and Wang Yuxia, Thousand Formulas and Thousand Herbs of Traditional Chinese Medicine, vol. 2, 1993 Heilongjiang Education Press, Harbin.
Cheung CS and Belluomini J, Heart, Journal of the American College of Traditional Chinese Medicine 1984; (4): 40-58.
State Administration of Traditional Chinese Medicine, Advanced Textbook on Traditional Chinese Medicine and Pharmacology, (4 vol.) 1995-6 New World Press, Beijing.
Ou Ming, Chinese-English Manual of Common-Used Prescriptions in Traditional Chinese Medicine, 1989 Joint Publishing Co., Hong Kong.
Pharmacopoeia Commission of PRC, Pharmacopoeia of the PRC, (English edition) 1988 People's Medical Publishing House, Beijing.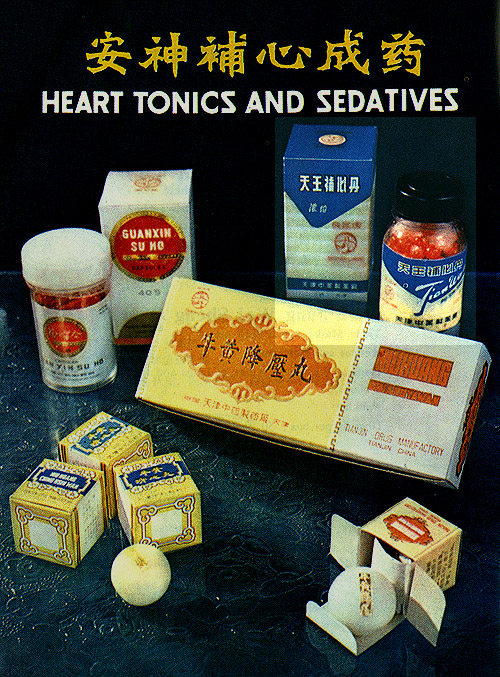 Page from the Tianjin Patent Medicine Company catalogue.
Tianwang Buxin Dan is in the upper right corner.