Return to ITM Online
UNANI MEDICINE
with Reference to Hamdard of Pakistan and India
| | |
| --- | --- |
| Unani medicine is ancient Greek medicine that has evolved within the Muslim world for the past 13 centuries (Unani is an Arabic spelling of Ionian, meaning Greek). Greek medicine, greatly simplified for presentation here, was based on the concept of balancing body humors. They either fell out of balance, which might yield diseases (depending on circumstances), or were restored to balance to heal diseases. The system involved four elements, thus differing from the Ayurvedic system of three doshas and the Chinese system of five elements. The original Greek and the resulting Unani systems involve these four elements: earth, air, water, and fire; along with four natures: cold, hot, wet, and dry; and four humors: blood (which is hot/wet), phlegm (cold/wet), yellow bile (hot/dry), and black bile (cold/dry). | |
Unani medicine, like Western medicine (which also arose from the Greek background) owes its origination to Hippocrates (460-377 B.C.) and his numerous followers. Other Greek medical masters, such as Dioscorides and Galen, who we recognize as the forerunners of Western herbal medicine, are also considered founders of Unani medicine.
The adoption of Greek medicine into the Islamic culture was depicted by Husain F. Nagamia MD, Chairman International Institute of Islamic Medicine, and former President of the Islamic Medical Association, as arising in the ancient city of Jundishapur (near Baghdad). The timing of events is described in relation to rule of caliphs, the civil and religious leaders of Muslim states, who are considered to be successors of Mohammed:
Jundishapur (or 'Gondeshapur') was a city in Khuzistan founded by a Sasnid Emperor Shapur I (241-272 A.D.) before the advent of Islam. It was to settle Greek prisoners....The town was taken by Muslims during the caliphate of Hadrat Umar, by Abu Musa Al-Ashari in 738 A.D. At this time it already had a well established hospital and medical school.
It was during the Abbasid Caliphate (754-775 A.D.) that Caliph al-Mansur, the founder of the city of Baghdad, invited the then head of the Jundishapur School to treat him. This physician was Jirjis Bukhtishu, a Christian whose name meant 'Jesus has saved.' He treated the Caliph successfully and got appointed to the court. He did not stay permanently in Baghdad, returning to Jundishapur before his death, but the migration to Baghdad had begun. Thus, his son Jibrail Bukhtishu established his practice in the city and became a prominent physician [he was invited to head the first Islamic hospital, built under direction of the Caliph]. Another family that migrated from Jundishapur to Baghdad was that of Masawayh, who went at the invitation of Caliph Harun-ul-Rashid (786-809 A.D.) and became a famous ophthalmologist. Most famous amongst his three sons who were all physicians was Yuhanna ibn Masawayh (known as Mesue Senior in the West). He wrote prolifically and 42 works are attributed to him [he also translated the Greek works into Arabic]. By this time (the 8th century A.D.) the fame of Baghdad began to rise as did the political power of the caliphate. Many hospitals and medical centers were established and tremendous intellectual activity was recorded. This culminated into the period of Islamic Renaissance and the golden era of Islamic Medicine….. One of the largest hospitals ever built was the Mansuri Hospital in Cairo, completed in 1248 AD under the rule of the Mameluke ruler of Egypt, Mansur Qalaun….The Mansuri Hospital had its own pharmacy, library and lecture halls. There was also a mosque for Muslim patients and a chapel for Christian patients.
The most influential historical figure in this golden era of Unani medicine was Avicenna (980-1037 A.D.), born in Kharmaitan. He began studying medicine at the age of 13 and started treating patients three years later. He gained a very good reputation, such that the ruler of the Samanid Empire (in what is now Iran), Nuh ibn Mansur (reign: 976-997A.D.), sought him out to treat an illness that was unsuccessfully treated by his court physicians. Avicenna was successful and stayed on as court physician; however, the Empire soon fell, and Avicenna became a wandering physician and teacher. Eventually, he moved to Hamadan (in west-central Iran), where he worked as a court physician. He began writing several works on philosophy and medicine, and, through further political upheaval, ended up in Isfahan, where he was able to complete his books. He died soon after, while serving as a court physician on a military campaign back to Hamadan, suffering an illness he was unable to cure. His writings included diverse subjects such as mathematics, astronomy, geology, and logic. His most important medical work was The Canon of Medicine (Qunun), which remained a valued text throughout Europe and the mid-East for several centuries after his death.
| | |
| --- | --- |
| Isfahan today | Avicenna |
The Unani medical system flourished in Persia and India. Today, it is especially strong in Pakistan, which was partitioned as a separate Islamic country with the independence of India from Britain in 1947. The Unani system is sometimes called Hikmat or Unani-Tibb. Its medical practitioners are called Hakims.
| | |
| --- | --- |
| | |
| Page from a 15th Century Islamic medical text (The Arrangement of Bodies for Treatment), showing the four-fold layout of diseases as per the original Greek four-fold system of elements, qualities, and humors. This page is devoted to illnesses of the brain. | Portion of page from same book showing some medical instruments used for piercing, as blood letting was one of the important methods for letting out excesses of the humors. |
THE 20th CENTURY AND HAMDARD
Hakim Abdul Majid (1883-1922) founded an organization called Hamdard in Delhi in 1906; at the time, it was a small clinic and herbal medicine shop. Abdul had come from a family that included many herbal doctors, and he joined the herbal pharmacy of the renowned Unani physician Ajmal Khan. As he developed his knowledge of medicine, he too became a doctor (Hakim) and decided to establish his own pharmacy and clinic, which he called Hamdard Dawakhana. Hamdard, meaning sympathy, refers here to "one who shares the pain of others and is willing to mitigate it" (Dawakhana means clinic). As a result of Hamdard's success, it was moved to a new larger building in 1922; unfortunately, Abdul suffered a serious illness and died that year. The responsibility for Hamdard fell to his wife and his eldest son (in a family of five children), Abdul Hamid, who was only 13 at the time and already studying medicine.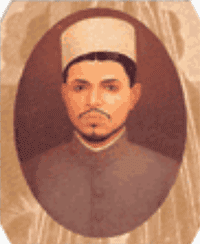 Hakim Abdul Majid
Hamdard would undertake its biggest growth and development once Majid's youngest son, Mohammad Said, agreed to study medicine (he had originally wanted to be a journalist). In 1940 he undertook studies of both Ayurvedic medicine and Unani medicine. After graduation, he participated in the Hamdard pharmacy and clinic with his older brother. Soon, however, the state of Pakistan was formed and many Muslims from India migrated there, including Mohammad Said, who was a devout Muslim. In 1948, he moved to Karachi, and set up a branch of Hamdard there, with both clinical facilities and herb manufacturing. In keeping with its aim to serve the people, it was turned into a charitable trust in 1953. Meanwhile, the original facilities in India, devoted exclusively to Unani medicine, continued to expand; under its director, Hakim Abdul Hamid, it became world famous and is likely the largest facility on earth for research and training in herbal medicine.
One of Hamdard's first products, formulated in 1907 and commercially produced since 1908, was a beverage made of herbs, fruits, and vegetables called Rooh Afza. The drink derived its name from its function of giving enlightenment (Afza) to the soul (Rooh). It became a major product in India and Pakistan and remains well-known today, having world-wide distribution. Among Hamdard's other products are Ayurvedic and Unani internal remedies and topical applications for dozens of common ailments (see Appendix 2 for some examples).
In Pakistan, under the leadership of Mohammed Said, Hamdard expanded its mission; in addition large foundation, it eventually generated an academy that became a major University (that includes a department of Eastern Medicine as well as other medical sciences), and a trust to house scholars and students. The pharmaceuticals branches in Delhi and Karachi became the world's largest producers of Unani products. There are nearly 30 other major herbal companies in Pakistan that follow Hamdard's lead.
| | |
| --- | --- |
| Hakim Mohammad Said | Sadia Rashid |
Unfortunately, Said, who had become a prominent person in Pakistan, was assassinated in 1998 by terrorists when he arrived at his usual Sunday morning clinic shift. It is speculated that he was killed because he was speaking out about corruption in Pakastani institutions. His daughter, Sadia Rashid, has taken over his position as chairperson of Hamdard Foundation in Pakistan. Mohammad Said's life and works is commemorated on a website: (http://spider.tm/jan2003/top5.shtml)
Mohammad Said traveled to various clinics in Pakistan, and provided free consultations and often provided free medicines. He was an avid reader and collector of books; he brought 300 books with him when he arrived in Pakistan in 1948, and eventually collected 75,000 books while there, which he donated to the Hamdard University library. Others followed his example of donating to the library, which now has nearly 500,000 books.
The Hamdard Foundation has published 300 books. One of Said's books, Medicine in China, was based on a visit he made to China in 1963. His book recounts the history of Chinese medicine and focuses mainly on the developments since the Chinese revolution in 1949. He had visited hospitals, research centers, and pharmaceutical factories. He also consulted a large number of books, pamphlets, and periodicals to put together the information for his book. The illustrations in the book, paintings of famous traditional Chinese medicine doctors that hang at the Academy of Traditional Chinese Medicine in Beijing, are featured on the Institute for Traditional Medicine website: http://www.itmonline.org/docs/famous.htm
Dr. Said had been in contact with ITM in the 1980s, as part of an effort to promote Eastern medicine.
APPENDIX 1: Unani Medicine Resources in India and Pakistan
India has 18 colleges of Unani medicine, two of them with postgraduate departments (one being Hamdard Tibbi College in Delhi; (see Appendix 3 about another major contributor to India's Unani system). The annual new admissions in the undergraduate courses is about 700 students, and 30 students in the postgraduate courses. A National Institute of Unani Medicine is in Bangalore. There are about 100 Unani hospitals in India, with nearly 1,400 beds for inpatients. In addition, there were nearly 900 dispensaries of Unani medicines and about 30,000 registered practitioners. Unfortunately, details of the overall medical situation in Pakistan are not available. However, a report on the most commonly used herbs for Unani medicine in Pakistan has been provided by the American Institute of Unani Medicine, as follows:
Unani Herbs in Pakistan Clinics, Ranked by Quantity Used
Botanical Name
Common Name
Unani Class*
Terminalia species
Beleric myrobalans
Cold 1, Dry 2
Emblica spp.
Myrobalans
Cold 2, Dry 3
Ptychotis ajowan
Ajowan
Cassia angustifolia
Senna
Foeniculum vulgare
Fennel
Cinnamomum zeylanicum
Cinnamon
Hot 2, Dry 2
Sesamum indicum
Sesame seed
Piper nigrum
Black pepper
Hot 2, Dry 2
Coriandum sativum
Coriander
Glycyrrhiza glabra
Licorice root
Hot 2, Dry 1
Mentha spp.
Peppermint
Viola odorata
Violet
Rosa damascena
Red rose
Zingiber officinale
Ginger root
Hot 2, Dry 2
Malva sylvestris
Mallow leaves
Adhatoda vasica
Malabar nut, adhatoda
Hot 2, Dry 2
Nymphaea lotus
Water lily
Rheum emodi
Rhubarb
Cuminum spp.
Cumin seed
Hot 2, Dry 3
Elettaria cardamomum
Cardamom seed
Althea officinalis
Marshmallow
*The Unani classification of the herb is presented where available from Indian Materia Medica by Nadkarni. The herbs are classified by the four natures of hot, cold, dry, or moist, and then by degrees, which can range from 1 to 4. Common foods and very mild herbs are usually classified as being in the first degree; the frequently used herbs of relatively mild nature (such as those listed above) are usually classed in the second degree, strong-acting herbs are classed in the third degree, and toxic herbs reach the fourth degree. These depictions, especially of hot and cold, differ from those used in the Chinese system, and refer to the effects on the four humors. One of the more extreme natured herbs is Ipomoea turpethum (not commonly used), a powerful purgative, rated as 3rd degree hot and 3rd degree dry. The wet quality is usually attributed to things that are actually wet, such as fresh fruits and vegetables and beverages; cucumbers, for example, are both cold and wet. The herbs for which classification is available in the table above are all of dry nature. Most of the herbs are of hot nature; there are relatively few that are cold. An example of a cold natured herb is white sandalwood, which is classified as 3rd degree cold and 2nd degree dry; it is used for high fevers. The myrobalans fruits (first two items in the table above) are by far the most commonly used cooling herbs. The hot and dry natured herbs help to dispel excess of the phlegm humor, which is cold and moist. In the Ayurvedic system, it is common to use spicy herbs to stimulate the digestive system, and these same herbs, being hot and dry, are used extensively in the Unani medicine of India and Pakistan with a similar benefit attributed to them. The disorder of the humors is diagnosed through questioning, examination of pulse and tongue, and urine and stool analysis. Appropriate food preparation and selection is an important first step to correcting an imbalance in the humors. If the condition is more advanced, a series of herbal formulations are employed to "ripen" and then "purge" the offending humor.
APPENDIX 2: Sample Products of Hamdard

Rooh Afza

A popular summer drink that quenches thirst, maintains the water-electrolyte balance, and acts as an instant source of energy for the body.

Ingredients:
Citrus medica, Rosa damascena, Coriandrum sativum, Daucus carota, Portulaca oleracea, Citrullus vulgaris, Spinacea oleracea, Mentha arvenis, Luffa cylindrica, Cichorium intybus, Vitis vinefera, Vitiveria zizaniodes.

Uses / Prevents:
A 90-year-old summer drink that is used effectively as an oral rehydration therapy in heat strokes, chronic diarrhea, etc. It provides instant energy and quenches the summer thirst.

Directions for usage: Mix 50 ml Rooh Afza with ice cold water and use as and when required.

Joshina

A remedy for catarrh, cough, cold, sore throat or nasal congestion.

Ingredients:
Viola odorata, Onosma bracteatum, Althea officinalis, Malva rotundifolia, Glycyrrhiza glabra, Zizyphus vulgaris, Cordia latifolia.

Uses / Prevents:
Joshina is a ready-made convenient and more effective variation of Joshanda-the age old, tried and trusted remedy for cold, catarrh and sore throat.

Directions for usage:
10 ml of Joshina mixed with 100 ml warm water to be taken before breakfast and at bed time

Safi: Blood Purifier

A 60-year-old famous blood purifier that improves complexion and removes skin troubles.

Ingredients:
Cassia angustifolia, Rheum emodi, Ipomoea terpethum, Nelumbo nucifera, Rosa damaascena, Dalbergia sisoo, Pterocarpus santalinus, Tinospora cordifolia, Terminalia chebula, Curcuma cassia, Swertia chirata, Andrographis paniculata, Cassia occidentalis, Spaeranthus indicus, Chrozophora plicata, Fumaria parviflora, Bauhinia variegata, Azadirachta indica, Ocimum basillium, Clitoria ternata, Artesmia absenthum.

Uses / Prevents:
The herbal remedy for skin diseases such as acne vulgaris, boils, skin rashes, blemishes. Checks nose bleeding, cures constipation, corrects indigestion, improves complexion.

Directions for usage:
10 ml once daily

Pachnol

A great remedy for stomach disorders and indigestions, loss of appetite, etc. It strengthens the digestive juices and removes gastric troubles.

Ingredients:
Piper longum, potassium carbonate, Zingiber officinale, borax, Piper nigrum, Eugenia caryophyllata, Calotropis gigantia, Acacia arabica gum, sulphur, black salt, potassium nitrate, ammonium chloride, Ferula assafoetida, citric acid.

Uses / Prevents:
Digestive tablets-strengthens digestive juices, aids in the digestion of rich food and relieves gastric troubles.


Directions for usage:
Two tablets after meals.

Hair Oil

A multi purpose oil that prevents dandruff, premature greying and falling of hair and provides shine and gloss to the hair.

Ingredients:
Nardostachys jatamansi, Eclipta alba, Lawsonia alba, Sesamum indicum oil.

Uses / Prevents:
A very useful oil that helps in all-round nourishment of the hair and stimulates the growth of the hair. It helps removing the split-ends in the hair, dandruff and provides strength to hair follicles.

Directions for usage:
Massage gently on scalp, leave overnight, shampoo next morning with Zulamia.

Hamdogen

It is an ideal medicine for sexual impotence and frigidity in men of all ages and acts as a powerful sex stimulant.

Ingredients:
Allium cepa, Mesua ferrea, Myristica fragrans, Myrtus caryophyllus, Alpinia galanga, Piper longum, Zingiber officinale, Cinnamomum zeylanicum, Trigonela foenum-graeceum , Mucuna pruriens, Crocus sativus.

Uses / Prevents:
It acts as a restorative and recuperative for entire human body. It also removes debility, symptoms of fatigue and exhaustion and is the ideal tonic for improving sexual performance and increasing sexual desire.

Directions for usage:
Two capsules once a day.
APPENDIX 3: Unani Medicine in India: Hakim Ajmal Khan
Ajmal Khan was born in India in 1864, and is generally acknowledged to be the most significant 20th Century contributor to Unani medicine in India. His life in India was something like that of Mohammed Said's in Pakistan; both were humanitarians of the first order who became important leaders and were versed not only in medicine, but in other academic areas, with an intense interest in providing educational opportunities. Ajmal Khan came from the famous Sharif Khani family of Delhi, known best for his great grandfather who made an immense contribution in keeping alive the two age-old native medical systems of India-Unani and Ayurveda-at a time when these systems were in decline as a result of widespread introduction of Western medicine by India's British rulers. Ajmal Kahn established the Hindustani Dawakhana in Delhi in 1905 (photo below right, as it was in the 1930s) to manufacture Unani and Ayurvedic medicines (thus, it was founded at about the same time and in the same city as Hamdard was founded by Abdul Majid). The dispensary took out patents for 84 herbal formulas. From the 1930s through 1960s, the Dawakhana employed up to 300 workers; today, it is in serious disrepair, and there are calls to preserve it as a magnificent historical structure.
| | | |
| --- | --- | --- |
| Unani Tibba College | Ajmal Khan | Hindustani Dawakhana in Delhi, as it was in the 30s |
Three years after founding the Hundisutani Dawakhana, Ajmal Kahn started a Unani Medical School for Women, and after many years more of hard work he helped establish Jamia Millia Islamia (National Islamic Univeristy, in Delhi) and also established the Ayurvedic and Unani Tibba College (pictured above left), inaugurated by Mahatma Gandhi in 1921. These organizations were partly funded by the proceeds from the Dawakhana. Ajmal Khan also worked politically in close association with Mahatma Gandhi as well as Motilal Nehru and many others and emerged to be a symbol of Hindu-Muslim unity. As a result, in 1921 he also rose to become the President of Indian National Congress.
The herb Rauwolfia serpentina, which Ajmal Kahn had used extensively, was analyzed under his supervision, with the contribution of Dr. Salimuzzaman Siddiquil, the primary research scientist. This work eventually led to the production of modern drugs of great importance, such as reserpine (a sedative and antihypertensive agent that was highly effective, though no longer available in North America). Another compound isolated that has anti-arrhythmia activity is named Ajmaline, in commemoration of Ajmal Khan, who died at the end of 1927 after having lived a life of great accomplishments.
An Ajmal Khan Memorial Society has been established. A book about his life and works has been written in English by Zafar Ahmad. An award given to dedicated physicians of highest quality (in Ayurvedic, Unani, or Allopathic medicines) and for high quality manufacturers of Ayurvedic and Unani medicines in India is named after Ajmal Khan and awarded by the Memorial Society. One of the recipients of the award, Universal Medicaments, provides medicinal materials to ITM.
APPENDIX 4: Black Seed-Unani Herb Gains International Recognition.
Nigella sativa is the source of a black seed that has a unique reputation in Eastern medicine. It is sometimes simply called "black seed," and sometimes called black cumin. It is not botanically related to the common cumins (Cuminum spp.) used as spices, but it is similarly used in foods. These seeds were found in ancient Egyptian tombs, mentioned in the Bible, and, most influentially, alluded to in the Qur'an, where Mohammed relays the saying that "black seed can cure anything but death." The seeds are used today to treat asthma and other lung disorders, digestive disturbance (e.g., indigestion, diarrhea), and hyperlipidemia. They are also recognized for antioxidant effects and immune regulating activity.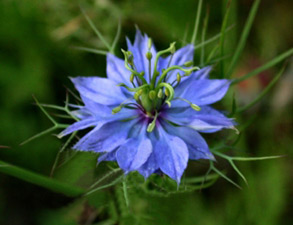 Nigella sativa
The unusual flower of this plant in the Ranunculaceae family varies from white to light blue, to deep blue (as pictured above). Extensive analysis has been done on the active constituents and pharmacological actions. There are two major groups of active ingredients, terpenes (making up the essential oil) and alkaloids. The seeds also contain small amounts of saponins and a significant amount of fixed oil (rich in linolenic and linoleic acids).
The terpenes are derivatives of thymol: mainly thymoquinone and its polymers (such as dithymoquinone), and p-cymene and α-pinene. These are volatile compounds.

Recent studies of the steam distilled essential oil of black seed (which makes up 0.4% of the seed) showed that the major components were p-cymene (37%) and thymoquinone (14%). In pharmacology tests, the essential oil was shown to have anti-inflammatory and analgesic effects, and thymoquinone was proposed to be the most significant contributor to that effect. Isolated thymoquinone was also shown to have anticonvulsant activity and anthihypertensive action. In an evaluation of thymoquinone as a protective antioxidant, it was demonstrated that it could reduce the cardiotoxicity of the cancer drug doxorubicin (also called adriamycin) without impairing the antitumor activity of the drug. This component also has protective activity against toxic chemicals that affect the liver or kidneys. At least two patents have been granted for pharmaceutical preparations of black seed to be used as an adjunct to cancer therapy to protect against side effects, provide additional anti-tumor action, and enhance the immune responses. Other patents have been given for black seed as a component of complex herbal therapies for hepatitis and diabetes.
The seed oil was evaluated for its immune regulating effects in a clinical trial of patients with various allergic conditions (e.g., allergic rhinitis, asthma, atopic eczema). The subjective experience of allergic symptoms were noted to decrease with doses of 40-80 mg/kg.
The main alkaloids of black seed are diterpene alkaloids called nigellamines. In pharmacology experiments, the isolated alkaloids have been shown to lower cholesterol and triglycerides to an extent comparable to the drug clofibrate.
May 2004