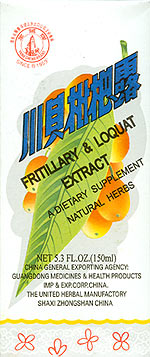 FRITILLARIA AND LOQUAT EXTRACT
Fritillaria and Loquat Extract is a popular cough syrup from Southern China that is exported world-wide. Its main features are quick effect, good taste, and low cost. The ingredients of the syrup include fritillaria bulb, loquat leaf (loquat leaf and fruit are pictured on the box, shown above), citrus peel, apricot seed, and Chinese peppermint (source of menthol) in a honey-water base.
This product, and others from Guangdong Province, come to the West through the efforts of the Guangdong Medicines and Health Products Import and Export Corporation; GDMEHECO for short (their Chinese name in characters is displayed below). Guangdong has been handling the import and export business of medicines and health products for a long time. The capital city, Guangzhou (Canton) is one of the biggest ports in China, it has been heavily developed since the early 1950s. Its huge international Canton Trade Fair has been held spring and autumn since 1957, bringing in thousands of visitors. With the development of a new national economy and foreign trade, GDMEHECO was founded in 1987 with the permission of the Ministry of Foreign Trade and Economic Cooperation, as a state-owned foreign trade company.
The staff members of GDMEHECO have worked diligently to explore the demands of international markets and find ways to meet the unique requirements for each country. As a result, they have established business relations with more than 80 countries, adhering to the principle of "Quality First-All for Human Health." The famous trademarks for medicinal herbs include Yang Cheng, Sing-kyn, and Chu Kiang. The products have had an excellent reputation in Hong Kong, Macao, and Southeast Asia. The Yang Cheng Brand, established in 1959, belongs to the United Herbal (Pharmaceutical) Factory. This company produces a wide range of herbal products, including this cough syrup.

Chinese banner for the GDMEHECO website.


GDMEHECO logo.