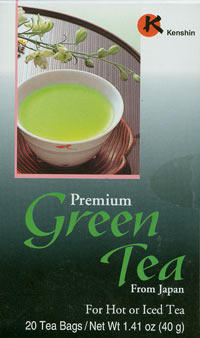 Green Tea
Green tea has long been valued in China and Japan for its miraculous medicinal properties, aiding the maintenance of good health. It has been said that: "It is better to drink green tea than take medicine."
Green tea has been receiving much attention lately. As a result, there are many medical reports and studies concluding that green tea has important healthful and healing properties. Drinking green tea has been shown to provide several health enhancing components, particularly catechin polyphenols that have antioxidant properties, thought to reduce the risk of heart attack, stroke, and cancer. Green tea has levels of the polyphenols higher than other teas (oolong and black tea), because of the special way in which it is dried. This traditional drying technique protects the tea components from the effects of fermentation. Japanese green tea is steamed, which helps retain its original content. Green tea provides polysaccharides, flavonoids, vitamin B complex, vitamin C, vitamin E, and fluoride. The now widely recognized health benefits of green tea have been mentioned in many newspapers and journals including CNN (see sample report), USA Today, New York Times, China Daily News, Journal of the National Cancer Institute, and medical submissions from numerous universities and research centers.
Green tea's natural aroma and widely acclaimed health benefits make it appealing to both the tea lover and previously non-tea drinker. The aroma of some green teas surpasses even the best black teas in subtlety and complexity. Green tea is as varied and unique as wines. Their uniqueness depends upon the growing region, the season's weather, time of harvesting and type of processing. Many varieties are available in multiple grades.
HOW TO ENJOY GREEN TEA
Green tea is easy to prepare, but some varieties are sensitive to the brewing conditions. In most cases, about 2 grams of tea leaves (the amount in a tea bag, about two teaspoons of loose tea, depending on the leaf form) is sufficient for a cup of tea, and is simply brewed by pouring boiled water over the tea and letting steep for about 1-3 minutes. However, some delicate teas are best prepared with water that is a little cooler (after reaching a boil, turn the heat off and let sit for about a minute before pouring), with the brewing time kept short. Those teas, while fragrant and light, can become bitter if brewed too long. Once you find brewing conditions (amount of tea, water temperature, brewing time) for your taste, simply follow that pattern carefully. Green tea is usually consumed with neither milk nor sweetener.
Premium Japanese Green Tea from Japan (Kenshin brand) is one of the finest Japanese teas available. It is provided in bulk form or tea bags, and makes a reliably good cup of tea. A slight variant is Genmai Tea, which has puffed rice added, which produces a smooth, full flavor. Both have all the benefits of tea catechins and other healthful green tea ingredients.
LEARN ABOUT GREEN TEA
The world of tea and tea drinking is fascinating. Consult these popular books for more information:
The Book of Tea (Illustrated Classic Edition) by Okakura Kakuzo, 2000 Tuttle Publishing. This is a new publication-with illustrations and a valuable introduction-of an old book, the original written in 1906. It tells about the historical and cultural aspects of tea.
All the Tea in China by Kit Chow and Ione Kramer, 1990 China Books and Periodicals. This book reviews the different types of teas, the growing of tea, tea's health benefits, and much more.