HerbsWerk: Navajo Herbal Soap and Salve
HerbsWerk is an indigenous home-based enterprise that is part of the Diné (Navajo) vision for a sustainable and balanced environment on Black Mesa. By cultivating and incorporating native plants that have been used by the Diné for many generations for ceremonies, healing, and wool dyeing, HerbsWerk is contributing to the economic development and cultural sustenance of the region. The soaps and salves made by HerbsWerk offer a fine application of this Diné indigenous history and knowledge to the public.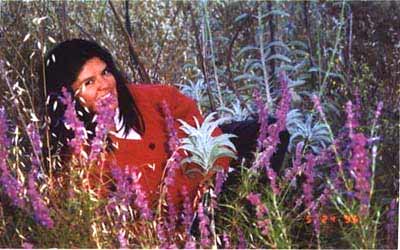 Marykatherine amid her herbs

Marykatherine is a Diné herbalist of Big Mountain, Black Mesa, Arizona. She has an herb garden where she grows clary sage from which she extracts an oil that is the basis of her soaps and salves. Also grown here are wild basil and mullein-both used in Diné ceremonies-and hops. At Marykatherine's home, she makes her HerbsWerk brand special soaps and salves. Marykatherine says: "The base for HerbsWerk's skin care products is made only from natural oils-primarily clary sage. The aloe vera is fresh from its home in the temperate desert. The beeswax for the salves is from the fresh harvest of the spring honeycombs in our mountains. The products have been guided and overseen by the Holy People from Dzil ni'tsaa, Dine' Bikeyah" (Big Mountain, Navajoland).
| | |
| --- | --- |
| Clary sage (Salvia sclarea): This white sage of the mountains surrounding the Pacific coastline has been used by indigenous people to treat external inflammation. It is antiseptic, anti-inflammatory, and aids in the regeneration of skin cells; used topically for acne, boils, wrinkles, psoriasis, eczema, and promoting healing of cuts and burns. The oil extracted from Clary sage has a wonderful aroma. Internally, the herb has been used to stimulate production of digestive juices, tone the stomach, relax the muscles of the digestive tract, aid digestion, and improve appetite. It is also a woman's herb used for painful menstruation, scanty or delayed periods, leukorrhea, pre-menstrual syndrome and menopausal problems. This is also a purification herb often used in ceremonies. | Clary sage |
| | | |
| --- | --- | --- |
| Mullein | HerbsWerk long-lasting and economical soap is made from all natural ingredients and has an emotionally soothing aroma. This herbal soap will not irritate; it is excellent for sensitive skin. Each bar of soap is crafted and cut by hand, then wrapped in attractive hemp paper. The weight of each bar is about 3.5 oz. Ingredients: saponified olive oil, coconut oil, clary sage, distilled water, grapefruit seed extract, essential oils. HerbsWerk herbal and natural salve is made for chapped and cracked skin. The healing effects of these salves are felt almost immediately. | Hops |
http://www.migrations.com/HerbsWerk/herbswerk.html
For more information, or to place an order:
herbswerk@angelfire.com
Marykatherine,
P.O. Box 259,
Kykotsmovi, AZ 86039