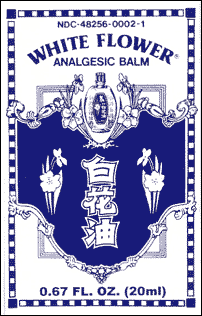 WHITE FLOWER ANALGESIC BALM
White Flower Analgesic Balm is known throughout the world. The product was developed in 1927 by Gan Geog Eng, a resident of Singapore. The fluid was originally made only for private use, but family friends and acquaintances tried it out and liked it so much they convinced Mr. Gan to produce it on a commercial basis. He called it Pak Fah Yeow (also written Bai Hua You, which means white flower oil), named for his favorite flower, the white narcissus. The trademark was registered in 1935. Following the initial success in Singapore and Penang, Mr. Gan decided to enter into the Hong Kong market in 1951, seeing it as both a potential major market and ideal manufacturing center. With a series of marketing campaigns, extensive outdoor advertising, and endorsement by well-known Chinese opera actors, White Flower Oil became a leading product in the Far East.
The product is a blend of several essential oils and active ingredients from plant oils, according to the following formulation:
| | |
| --- | --- |
| Wintergreen | 40% |
| Eucalyptus | 18% |
| Peppermint | 15% |
| Menthol | 15% |
| Camphor | 6% |
| Lavender | 6% |
Wintergreen oil is mainly comprised of methyl salicylate; peppermint oil is a source of menthol, and there is additional menthol added; camphor is an aromatic oil originally derived from the camphor tree. The oils are imported from France, China and Australia, and meet the standards set forth by the British Pharmacopoeia, Chinese Pharmacopoeia, International Fragrance Association, or Research Institute of Fragrance Material. The product meets Good Manufacturing Standards of Australia and is certified by the International Organization for Standardization (ISO).
White Flower Oil is indicated for temporary relief of aches and pains of the muscles and joints, such as problems of backache, arthritis, sprains, bruises, and strains; it has also been found useful for headache and neck ache. Typically, it is applied three times a day. The product comes in several bottle sizes, the common ones being the large 20 ml bottle, and the tiny 2.5 ml bottle, ideal for carrying around for use at any time .