ITM's Herbal Formulas:
Pine Mountain
[for a detailed description of a sample formula please see: Yin Qiao Jie Du Pian]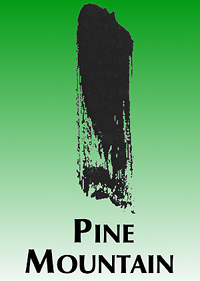 ITM developed the Pine Mountain brand of herb formulas in 1996. These are replacements for popular patent remedies, and resolve the problems inherent in most imported patents such as concerns about inclusion of undesired ingredients (e.g., drugs, heavy metals, endangered species, toxic herbs) or improper labeling (e.g., incomplete ingredients list, mislabeled herbs).
Pine Mountain herb tablets are prepared from either extracted herbs or powdered herbs or a combination of the two. The herb materials, obtained from China, are compressed into tablets of 525 mg each. The tablet coatings, made of modified cellulose, are colored with natural colors to yield white, yellow, or red tablets (color coded by the type of formulation). The tablet size is set to three times the typical patent formula pill size of 175 mg.
The formulas are available to licensed health care providers who are already educated in the field of traditional Chinese medicine for prescription to their patients. We provide a partial list of practitioners who are trained to prescribe Chinese herbs. The practitioner is responsible for determining which formula is most suitable to use, the dosage to be used, the duration of use, the appropriate point to change formulas, and the contraindications for using the formulas in various situations. The practitioner is also responsible for explaining to the patient, as appropriate, the formula's ingredients, their actions, expected effects, potential for adverse effects, and the diagnostic indicators that led to selection of the formula. The practitioner, based on training and experience, will respond to any other concerns that the patient may raise while using the formulas.
The Pine Mountain formulas currently produced are these:
Pine Mountain Formula
Replaces
Ba Zhen Wan
(Tang-kuei-Codonopsis Formula)
Women's Precious Pills
Bi Yan Pian
(Magnolia Flower-Xanthium Formula)
Bi Yan Pian and Bi Yuan Wan and other sinus formulas
Bu Nao Wan
(Schizandra-Zizyphus Formula)
Cerebral Tonic Pills, Healthy Brain Pills
Bu Zhong Yi Qi Wan
(Astragalus-Ginseng Formula)
Bu Zhong Yi Qi Wan
Cordyceps Tablets
(Cordyceps-Eleuthero-Rhodiola)
Replaces single herb products made with eleuthero (Wu Jia Sheng), cordyceps, or rhodiola.
Dan Shen Pian
(Salvia Extract Tablets)
Dan Shen Tabletco
Er Chen Wan
(Citrus-Pinellia Formula)
Er Chen Wan
Gui Pi Wan
(Ginseng-Longan Formula)
Gui Pi Wan
Hua Zhi Ling
(San-chi and Sanguisorba Formula)
Fargelin for Piles and other hemorrhoid formulas
Huo Xiang Zheng Qi Pian
(Pogostemon and Perilla Formula)
Replaces formula by the same name, as well as Pill Curing
Jin Gui Shen Qi Wan
(Rehmannia Eight Formula)
Sexoton, Golden Book Tea
Liu Wei Di Huang Wan
(Rehmannia Six Formula)
Liu Wei Di Huang Wan, Six Flavor Tea
Long Dan Xie Gan Wan
(Gentiana-Chrysanthemum Formula)
Long Dan Xie Gan Wan
Ming Mu Di Huang Wan
(Rehmannia-Lycium Formula)
Ming Mu Di Huang Wan
Ping Chuan Pian
(Apricot and Morus Formula)
Ping Chuan Wan
Qian Jin Zhi Dai Wan
(Indigo and Sepia Formula)
Chien-Chin-Chih-Tai-Wan
Ren Shen Feng Wang Pian
(Ginseng-Royal Jelly Formula)
Ginseng-Royal Jelly and other general tonics sold in liquid, capsule, and pill.
Sheng Fa Wan
(Ho-shou-wu and Rehmannia Formula)
Alopecia Areata Pill and other hair formulas
Shu Gan Wan
(Cyperus-Corydalis Formula)
Shu Gan Wan
Tian Ma Gou Teng Pian
(Gastrodia and Uncaria Formula)
Tian Ma Gou Teng Wan, Tian Ma Mi Huan Jun, and other gastrodia formulas.
Tian Wang Bu Xin Dan
(Rehmannia and Biota Formula)
Heavenly Emperor's Pills
Tien-chi Ginseng Tablets, Raw
Tien-chi Ginseng Tablets
Wu Ji Bai Feng Wan
(Black Chicken Formula)
Black Chicken White Phoenix Pills
Xiao Yao Wan
(Bupleurum-Tang-kuei Formula)
Bupleurum Sedative Pills
Yao Tong Pian
(Eucommia and Psoralea Formula)
Anti-lumbago Pills, Sciatica Pills, and other back pain formulas.
Yin Qiao Jie Du Pian
(Lonicera and Forsythia Formula)
Yin Qiao Jie Du Pian
Zhi Bai Di Huang Wan
(Anemarrhena-Phellodendron Formula)
Chih-Pai-Ti-Huang Wan, Eight Flavor Tea
ITM publishes a book, A Bag of Pearls (2004), that provides important background information related to the Pine Mountain formulas (and other ITM formulas). All practitioners who prescribe Pine Mountain formulas should possess and refer to the most recent version of this book. Non-practitioners may obtain this book for their personal reference, but are cautioned that the information is couched in terms usually learned only during formal training in traditional Chinese medicine.